Tech Liminal Opens Hotspot & Salon in Downtown Oakland !!
Submitted by Willi Paul on Thu, 07/16/2009 - 14:34
Axis:Image: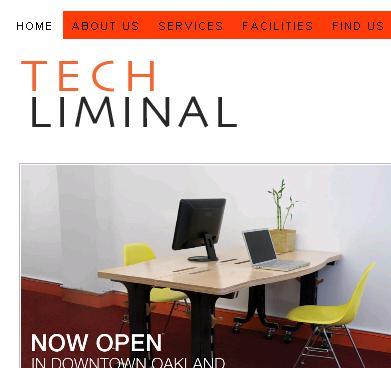 Tech Liminal
http://techliminal.com/
268 14th Street
Oakland, CA 94612
info@techliminal.com
(510) 832-3401
Vision
We envision communities and workplaces where technology is a silent partner, boosting productivity, enhancing profitability, and enabling communication. There should be no internal barriers to the broad opportunities that are opened by the internet. Online strategies should be as straightforward to implement as sending an email. We envision that Tech Liminal can help achieve this new level of productivity and creativity by bringing business professionals, community leaders and technology experts together.
Principles
To facilitate and encourage the use of online and other technology resources to increase the success of business owners and the efficiency of organizations everywhere, no matter how large or small. To reduce the high costs and frustrations of adopting new tools and technologies. To increase the usefulness of business applications by providing intelligent set up, meaningful training, and practical support.
Facilities
Organized, Comfortable, Rentable: Work and Meeting Space
Our spacious facilities provide an exceptional working environment for groups or individuals. Rent our fully equipped space for training classes, retreats, meetings, and teleconferencing. Our co-working desks make a great away-from-home office alternative — reserve a work space by the hour, the day, the week, or the month. Got a special project? We have top quality equipment and the most popular production tools for you to use on site by the day or hour.
More details about co-working and conference room rentals. Conference and barcamp organizers, our entire space can be reserved for your event!
Visit Our Oakland Space
* Two stories and 1600 square ft of open and airy technology space.
* Secure high speed wired and wireless internet throughout.
* Configurable desks for solo or collaborative work.
* Workstations loaded with software for office work, photo editing, video editing, sound editing, presentations, and other needs.
* High resolution large screen monitors.
* Photography booth equipped for creating online displays for Etsy and Ebay and as well as for blogs, catalogs, websites, web galleries.
* Planned: sound recording booth and video studio facilities for multi-media website content and podcasting.
* Coming soon: Speedy, high quality laser printing for documents and photos.
High Tech Conferencing Facilities
* Projector, white boards, and unique SmartBoard technology.
* Conference recording available on request.
* Private meeting room with conference table seats 16.
* Class and training space for up to 25.
* Rent the entire salon with capacity of 75.
....check out the services and more online:
http://techliminal.com/services/