Hoop House Dance! A review of "Smart by Nature - Schooling for Sustainability" by Willi Paul
Submitted by Willi Paul on Thu, 10/08/2009 - 12:31
Axis:Image: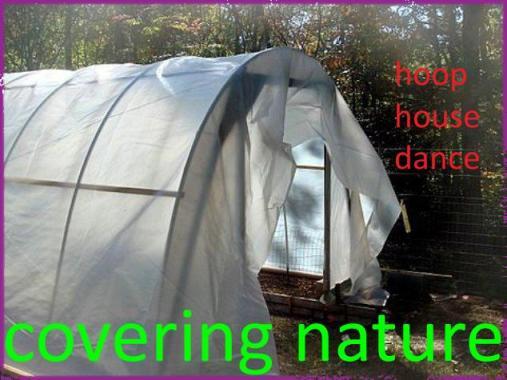 Hoop House Dance! A review of Smart by Nature - Schooling for Sustainability
Author: Michael K. Stone and Center for Ecoliteracy
Foreword by Daniel Goleman
University of California Press
By: Willi Paul
"Nature is Our Teacher
Nature, having sustained life for billions of years, holds the key to helping students learn how to live and thrive in sustainable human communities. With nature as their teacher, young people learn the basic ecological principles and perspective essential to sustainable living." (Smart by Nature, p. 156)
This green rocket is a project / experience-based catalyst for change. But where is the companion web site? An online community for teachers, parents, and kids? Hmmm! The more I read Smart by Nature, the better it is. I love the layers of spaces (campus, community, and back yards are a few here) and mantras like the 4C's: campus ecology, curriculum connections, community partnerships and collaboration. Yes, this all rings true.
Holistic, sensitive, well-crafted and deep with simple and supported action sets. Michael Stone's wide swath of interviews, projects and values in the ever-widening sustainability scene must be heralded green!
We have to connect the dots: architects, kids, principles, chefs, bikers and parents. Here is the bridge to us. We need new stories (myths?) for a survival – post survival age. Smart by Nature is a sensational well to our children and parents.
Check-out the orange pages! Groovy."Lessons Learned" "What You Can Do." Here is a sample from the latter:
Create celebrations

Work projects in your local community

Practice integrated planning

Understand life-cycle costs

Conduct a curriculum audit
Buy this book. Put it under your pillow at night. And take it to work and school every day. Work it!
* * * * * * * *
"How are urban schools different from country schools?
I think it's hard to generalize about urban, rural, suburban, etc., because in my experience the biggest gaps arise from socioeconomic status. Poor rural schools often share the same challenges as poor urban schools. Their students can often feel trapped and without options, certainly without a sense that their community needs them. Our conviction, whether we're working with an urban or a rural community, is that lots of good things happen when students are given opportunities to learn by making a difference in their own community. Student engagement increases, student learning increases, teachers feel revitalized, social capital is built, community perceptions of students shift, students' perceptions of themselves shift, etc."
From: Journey into our Event Circle 34 interview with Matt Dubel, Project Coordinator for the Sustainable Schools for Shelburne Farms in Shelburne, VT. By PlanetShifter.com and Willi Paul.