The Man at the Start of the Rainbow: Trathen Heckman and Daily Acts Celebrate in Petaluma
Submitted by Willi Paul on Fri, 11/06/2009 - 09:56
Axis:Image: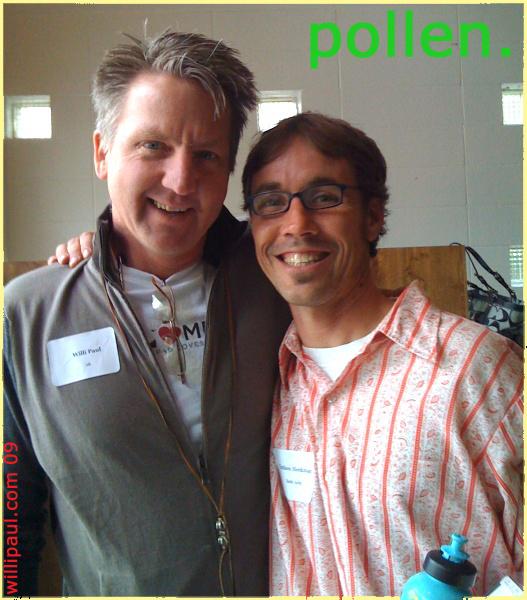 The Daily-Acts Fundraiser in Petaluma yesterday was exhilarating. Part greenie teach-in, part slow food bash; all inspiration! I finally met Mr. Heckman (the guy on the right!) and still glow from two fine hugs. Do enjoy my recent Event Circle interview with Trathen.
From Backyard Solutions to Cityscape Transformation
"We grow hope, community, skills, education, habitat, policy change and engaged citizens who are feeding and inspiring neighbors and reclaiming our future. Regardless of resources and whether you rent or own, are urban or rural, it's about cultivating the resourcefulness, relationships and proactive audacity to turn large problems into elegant, tasty, eco-efficacious solutions. It's not about being perfect, it's about being proactive and committed to learn, do, share what you live and keep growing. Are you ready to move from fear and apathy to inspiration and from inspiration to implementation?"
What's New? The Daily-Acts Homegrown Guild Programs:
Model Households – Be the change, consume less, inspire, grow, share more!
Garden Wheel – Build community, lend a hand, and transform lawns to lunches once a month.
Seasonal Celebrations – Swap seeds, process and enjoy the season's bounty, celebrate! June 20th Solstice Celebration, September 20th Cider Press Party, December 4th Winter Feast
Homegrown E-list – Share related stories, resources, and inspiration! Contact: HomegrownGuild-subscribe
Teach and Share – Grow your skills at reaching out to the public and teaching what you know.
Homegrown Guild members will teach workshops and tours indicated by this symbol in the brochure. If you are interested in scheduling a presentation or finding out more about how to be involved please contact: homegrown