"Sustainable Innovations, Vision Made": Interview with Gary Barker, President / CEO, Greenheart Global by PlanetShifter.com
Submitted by Willi Paul on Fri, 03/19/2010 - 16:07
Axis:Image: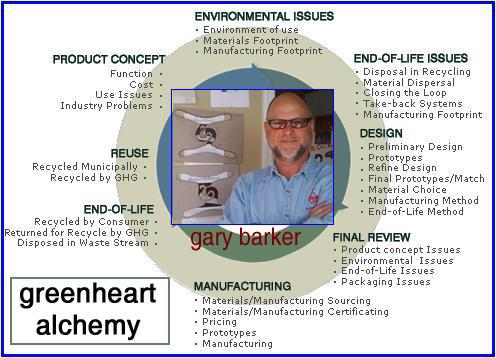 "Sustainable Innovations, Vision Made": Interview with Gary Barker, President / CEO, Greenheart Global by PlanetShifter.com
"Everything we do affects nature's balance: what we make, what we use, what we dispose. At GreenHeart Global, our mission is to bring intelligently designed, environmentally conceived products. We pledge to find the best possible solution to solve some of industry's most vexing environmental problems. We expect our solutions and designs to change with material and production innovation and as recycling infrastructures expand. Our research brings us in contact with unusual and more sustainable materials, which we substitute for more commonly used, more toxic or unrecyclable materials. And we test our products to make sure they perform in commercial settings and can stand up to the rigors of everyday use." -- Greenheart Global web site
* * * * * * *
Gary Barker and his crew are inventors and transformers, from Greenheart Global's Ditto Hangers brand of 100% recycled content clothing hangers or their new pressure fabricated material made from potato chip bags for TerraCycle- - only two shinny stages in a product innovation cycle that will surprise you! He emphasized that "using recycled materials is more expensive than virgin materials."
"The material is the message." The Ditto hanger is just one product from their recycled material that looks and feels like a 'polished press board.'
BARTing then walking from Burlingame to East 18th in Oakland was a grand set-up. Who knew that the Old brickside Mothers Cookie Factory was now revitalized into an alchemy lab! Mr. Barker is a sharp and sincere guy on a roll in a crappy economy. He will split-off his successful Ditto Hangers bizz next week so he can donate more time to innovation. He delivers his clients "system-wide product innovation", evaluating all phases in production, delivery and marketing.
A true cradle to cradle, man.
* * * * * * *
Who are the major corps. that you have worked with, on what product innovation? What did these businesses have in common?
Adidas, Gap Outlet, LL Bean, American Eagle, Acorn, Bed Bath & Beyond, O'Neill. The commonality is their search for improving and a dedication to moving towards sustainability.
Is sustainability spiritual to you? Is it like a new religion?
Yes. And it is here in our office. But it goes beyond sustainability. It's doing the right thing, no matter what it is. That's beyond sustainability.
What is the next company to spin-off, after Ditto?
Not sure. We've got some very cool ideas for products, like the modular storage system made out of cardboard. But for now we're pretty well focused on hangers and consulting.
* * * * * * *
What did I discover?
It has to look recycled, that is the value now; the material paves the way to sustainability sales and re-use.

I liked our conversation concerning what I call Reverse Design. To Gary it's 'who wants this thing first, then how do we cradle it into being?'

Ideation starts with belief, then a passion and persistence that "ends" with a functional market value.

It's trash streams, product brokers, certifiers, and global markets!

It's no longer supply and demand; It's demand the right supply and then re-engineer it green.
Connections –
Gary Barker, President / CEO
Greenheart Global
Gbarker at greenheartglobal dot com
510.261.7383
Oakland, CA