"Every Job Needs to be Green"- The PlanetShifter.com Interview with Sustainability Consultant / Author Bill Roth from www.earth2017.com
Submitted by Willi Paul on Thu, 04/15/2010 - 11:26
Axis:Image: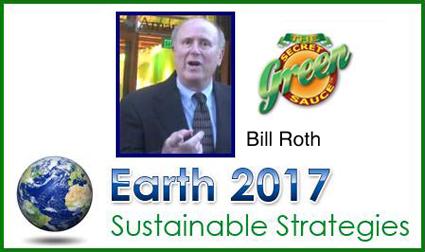 "Every Job Needs to be Green"- The PlanetShifter.com Interview with Sustainability Consultant / Author Bill Roth from www.earth2017.com
"(My) interview with Taylor has now provided me with a new, number nine best practice for a company seeking to adopt human resources activities in support of going green. This new best practices is: Green Teams Will Grow Leaders. "One benefit from our program is that our company is now discovering new leaders among volunteering associates," Taylor notes. Taylor is actually such an example having begun her involvement in sustainability as a volunteer in the Real Estate Department where she worked. Her own volunteer efforts as a captain of the associate sustainability program provided her the opportunity to earn her current job as the Director of Sustainability. Taylor led a team of associate volunteers in her department and provided personal examples of how she began composting and using reusable shopping bags to lower her impact on the environment."
Bill Roth's Interview with Candace Taylor, Wal-Mart's Director of Sustainability
* * * * * * *
What is the most ethical green issue that you have solved in the past 6 months?
Greenwashing is a tough one for businesses. On one hand there are some companies where the marketing folks have gotten out of hand in terms of their claims. On the other hand, there are a lot of companies who are implementing significant sustainability steps that are not advertising their efforts out of fear of being branded as greenwashing. This business fear of "not being green enough" is counterproductive for encouraging companies to pursue sustainability. So one area of my consulting practice is in helping companies find an ethical middle ground that aligns with their customer's green-maturation process while being transparent and honest on what has been achieved and what needs to be achieved.
Why is a job in sustainability different than a "regular" gig?
I don't believe it is different. I have the privileged of being a guest speaker before the growing numbers of good people "in job transition" because they are interested in learning about green jobs. My message is that every job needs to be green. Plumbers need to be green plumbers. Human resources managers need to be green. Every work associate has a role in making sustainability a best practice in behalf of their company and our world. I have seen many examples of work associates in HR or operations or legal who have helped their companies realize increased financial results by going green. And now I am beginning to see evidence that work associates demonstrating green leadership are finding enhanced promotion opportunities based upon demonstrating initiative and management skills. Very cool.
What did you discover at Wal-Mart?
They are serious about being green. It is a powerful commitment when 500,000 work associates in a company are volunteering to make a difference which goes beyond management's statements of intent. What I heard from my interview with Wal-Mart's director of sustainability was specific examples of individual actions by Wal-Mart associates that are moving their company to a higher level of sustainability.
Name the top three thought leaders in the green movement? What makes them great?
Michael Pollan is at the top of my list. I am increasingly seeing people discovering sustainability through self-education that often begins with a focus upon their health and diet issues. Pollan has done a great job linking diet, health and sustainability. A major "lessons learned" from Wal-Mart is that people often start down their sustainability path with a focus on their personal health issues and concerns, but once engaged, they expand their range of interest to their community and the environment.
The second source of thought-leadership that I see growing dramatically is the local community. People are not waiting for big government to act. They are taking action at their local level. One great example is Palm Desert, California. All of the city council members are Republicans. They have voted to implement $45 million in Property Assessed Clean Energy (PACE) financing of solar and conservation projects targeting 22,000 buildings to achieve a 30% reduction in their community's CO2 emissions. Another example is Gainesville, Florida where local citizens are starting green hardware stores, organic-food restaurants and construction supply companies sourcing recycled timbers. 1000 cities have signed the U.S. Conference of Mayors commitment to take actions that will reduce climate change emissions. It is our local communities encompassing the widest participation-diversity including businesses, citizens, educational institutions, government agencies and non-profits that are today's thought-leaders on how to successfully go green.
What are the top five values or best practices at Earth2017? For your clients?
One very encouraging observation tied to your question is that there are proven best practices for a business to go green and make money. When I started my column as the Green Business Coach for Entrepreneur.com in late 2008 I really couldn't point to many green business successes. But after posting my first article entitled the Green Economic Revolution I began receiving emails and phone calls from across the country from businesses large and small that were pioneering sustainability best practices. This feedback began as a trickle of tangible evidence and today it is a strong current. I post many of these best practices as tweets and blogs available for free on my www.earth2017.com
I have also summarized their best practices in my just released book, The Secret Green Sauce (The first chapter of The Secret Green Sauce is also available for free at www.earth2017.com). The three key best practices of businesses in my network that are growing green revenues are:
1. Align Value with Values.
This is a pricing strategy. The companies that are growing green revenues have a strategy that achieves pricing parity with a competing, less sustainable product. (And the great news is that at pricing parity, 85% of consumers will buy the more sustainable product rather than the less sustainable product!) Unfortunately, many business people think going green means the product has to cost more. I have a growing inventory of businesses that are proving that you can be price competitive and green. And because of their pricing strategy they are realizing year over year sales growth even in this soft recovery economy.
2. Prove It, Conclusively. This is a branding strategy.
It addresses consumer confusion on what to buy and who to buy it from. The companies that are growing green revenues have a strategy to "Prove it, Conclusively" to their customers that they offer credible green products. These companies don't rely upon a formula ranking or one seal of approval but rather they strive to gain multiple endorsements from credible third parties (including their customers) that their products do align with the green expectations of their customers.
3. Know It, Embrace It.
This is a marketing strategy. It is implemented through social marketing because that is how consumers are figuring out who to trust, what to buy and who to buy from.. I first heard this concept explained by a pioneer in social marketing that explained the process as starting with self-education (Know It), and then action (Embrace It). This is a revolution compared to traditional broadcast advertising and a great opportunity for companies that are "walking their talk" to connect to customers at a fraction of the cost of traditional advertising programs. Companies that are growing green revenues have a social marketing path that enables a customer to learn, then experiment and finally buy their green product, and then share these insights with their peer group.
How important is evaluation in the certification process?
Here's my take on green evaluation or formulas, they don't strongly resonant with customers or work associates. Sustainability has been captured by engineering and its formualistic approach. I am not saying measuring is wrong, in fact I strongly believe we are what we measure. However, based upon my experience in helping to facilitate change, I have found customers and work associates are more likely to engage in lasting change when equipment with anecdotal best practices that relate to their own activities rather than performance-based motivations that appear to the customer and associate to be pressuring them to make changes they still are attempting to understand.
That is the power of a successfully executed Green Teams program (and the above mentioned Know It, Embrace It best practice). Green Teams will produce green results, but more importantly they will produce a green culture. That is why I focus upon helping companies and their associates learn about what is working as an empowering path for them to figure out how to measure/evaluate performance. My focus is upon creating learning and engagement that will stimulate sustainable results. Chapter Six of The Secret Green Sauce summarizes 8 proven best practices for achieving measurable results through Green Teams.
Give us a few examples of the clients that you have worked with and what the challenges were going in?
My work ranges from large companies to early stage companies, from cleantech to traditional industries. Each comes with their own unique challenges. But most of the time it ultimately centers upon leadership. The leader I look to work with is one that is genuine in their personal desire to adopt sustainability, has the strength to pursue change and is open to innovation. My role is to equip this hugely valuable individual with best practices and proven innovations that will enable their success, the success of their company and produce measurable environmental improvements.
What type of learning is offered within your Green Masters Certification Program?
I start every program with this stated goal, "I want every participant to take from this program at least one best practice that they can implement now to improve the environment and their company's bottom line." Work associates are under a lot of pressure to produce results, now. The focus of the Green Masters Certification Program is to provide an accelerated educational experience built around case studies of actual businesses that are achieving triple bottom line results.
Because I now have such a depth and range of case studies I like to conduct interviews within the client company to identify the specific issues associates are facing in terms of going green and financial performance expectations. The actual instruction is classic Masters Program case-study teaching, enabled by my experience and growing library of companies adopting sustainable best practices. Participants do gain a masters level of understanding but more importantly in terms of effectuating change, they come away from this learning experience with tangible next steps that will produce positive results for the environment and their company's financial performance. It is my experience that once individuals and companies realize near term results by going green a door opens within the company for taking additional steps forward.
Let me also note another less positive trend I am seeing. A lot of companies over the last few years have hired Chief Sustainability Officers and staff focused upon quantifying and achieving CSR goals. Now there is a push back occurring within some of these companies around questions on how CSR goals relate to the company's bottom line. The CSR group then engages in starting up cross-functional committees attempting to build links between going green and business operations.
This all relates to my earlier comments that sustainability is not a distinctive function but rather a core business best-practice that produces bottom line performance success. That is The Secret Green Sauce, namely that sustainability is a key ingredient in every job and corporate function. Financial analysis by pioneers in this space are now documenting that more sustainable companies are out performing less sustainable companies in growing equity valuations. Sustainability is The Secret Green Sauce that makes money.
What is an environmental risk program? Have you designed one?
The environmental risk program addresses the role of a Company's CFO regarding sustainability. CFOs have legal and fiduciary responsibilities for filing financial disclosures detailing their assessment of risks and risk mitigation paths. In Spring 2009 I conducted a course for CFOs framing sustainability as a financial risk management issue. This perspective was validated by the March 2010 SEC decision that climate change is a risk that should be discussed in SEC filings. This means that the potential of a government assigning a cost to what was once a free good like CO2 emissions is now a CFO issue that must be assessed and reported in the risk disclosures sections of their financial filings. Prudence is a key term in assessing risk and its mitigation.
The question of prudence through a prudence audit enables a company to assess climate change related impacts such as actions by governments and competitors. My environmental risk management program enables a CFO to explore the prudence issues tied to climate change and to assess the prudence of alternative climate change risks mitigation path. This is hugely important because sustainability will never be a core business strategy without the CFO's buy-in.
Has the economic crisis impacted your bottom line? Have you invented new ways to serve your clients?
My evangelical message is that going green is a revenue growth opportunity. I am very engaged in a growing two early stage companies. This is a great time to be a green entrepreneur.
What is your track record on environmental justice issues?
My eyes on this issue were opened from my son's volunteer work in the Dominican Republic in 2007 where he built a facility for a community-clinic serving the economically disadvantaged and repaired village roads damaged by hurricanes. He came back after six months of survival living with a new perspective on flushing clean water down our commode. "Dad, do you realize our condominium is using clean water to irrigate the grass?" His insights sparked my research into this issue (for example, everyday 5,000 babies in the world die just because they do not have access to clean drinking water).
From this research I wrote an article in Enterpreneur.com about the Rainforest Alliance Certified Coffees. I just recently posted an article in Triple Pundit profiling the Sirona Foundation's efforts at helping Haitian farmers develop sustainable farming of Jatropha. In terms of helping business clients, I am sorry to say this is still not an area of any measurable success.
Who is your competition?
There are a growing number of professionals offering to help companies adopt sustainability. That is great news because the number of companies actually measuring their environmental footprints is still relatively small and the percentage is even smaller in terms of companies that have made sustainability a core strategy for realizing their financial goals. So I am excited by this growth in the number of green professionals. Today, my focus on growing green revenues and how to deploy best practices drawn from my international network of green growth companies is still fairly unique. But I look forward to the day when my practice in this area is so well understood that I will have to pursue other opportunities.
Give us some insight into your corporate zero waste strategies.
I am focused upon reduce. My office is located in a live/work environment. Most of my company's work associates work similarly. The majority of my business meetings are held in a LEED Platinum-certified building. I typically travel to these meetings via mass transit (I even attended a major green conference in my town of San Francisco by riding my bike and by doing so stimulated the conference organizers to implement a biking program for attendees). I try hard to work via the web and phone rather than traveling. The Secret Green Sauce is available in Kindle. I can do better, I will do better, but compared to many, I am doing OK.
Congrats on the new book: The Secret Green Sauce! How do you advise your clients on green washing?
Thanks. As I previously mentioned, greenwashing is my huge ethical issue. I am passionate about getting as many businesses as possible into the "green tent." But this also means a lot of them really are not very green, and potentially, not very genuine. So I work to get companies to go green if they are not already and then I attempt to equipment them with best practices that will help a company grow in their adoption of sustainability. What I have found is that companies may begin their green path for monetary reasons but as learning and awareness increases among their associates a green culture develops that has a longer term positive influence upon the company and our environment.
How do you define localization?
The customer decides. And importantly, more and more customers are deciding to buy local. Again, food is often the first path toward a buy local awareness. We have a community garden in our town. Last year there were many more volunteers than ever before. And this spring we are seeing a huge interest in buying the garden's seedlings for use in home gardens. This type of story is being played out in communities across America. Local communities are growing the adoption of CFL lights, the use of carry bags rather than plastic bags and the purchase of local, recycled building materials rather than imports. And no amount of traditional mass-advertising will diminish this trend.
Customers are self-educating themselves through community networking and through web-based social media. Today there are 26 million "Mommy Bloggers" and these Concerned Caregivers are all over issues like product-labeling, diet, indoor air quality and creating local jobs for their children. I see evidence that Buy Local will be the enabling path in sustainability's adoption.
Is sustainability like a new religion? How so?
No. It is a mega-trend like the Industrial Age or the Information Age. The 20th Century's solutions are costing more and delivering less. Sustainability is our path to "cost less, mean more" goods and services. My current economic projections forecast a $10 trillion global annual revenue economy by 2017, thus the basis for naming my website Earth 2017. Like the computer chip, sustainability will someday be so pervasive that we just won't notice it in our cars, homes, businesses and lives.
Many see a major shift in the power of the USA as the banking, housing, climate and unemployment debacles hits home. What is your near term view of the future?
I believe in America and Americans. We are paying a price as we unravel our unsustainable behaviors, including greed and living beyond our means. But no other country in history has been more successful at implementing change than America. It won't be pretty or easy but Americans will keep pushing for change until we realize a sustainable future.
The key will be the American Consumer and their $10 trillion of annual buying power. And among consumers, a key player will be the Concerned Caregivers (our moms) that influence 80% of retail purchases. When the American Consumer fully appreciates the environmental and economic advantages gained from buying local then we will realize the restoration of our economy, jobs and environment.
What would accelerate this result is a revision in the Federal tax code to encourage Buy Local and sustainability. It doesn't make sense to have high payroll taxes when our economy needs job creation. It makes sense to tax unsustainable consumption activities like emissions, waste and poor health choice. The goal should be to provide consumers with clear pricing signals at the pump, meter and cash register on the environmental and societal costs tied to their consumption decisions. That was the focus of my 2009 book, On Empty (out of time) that unfortunately was very accurate in anticipating our current environmental and economic situation.
Is grey water or solar energy the more important residential technology moving forward?
Yes. They are both important because their mass production/adoption is a path to cost effective environmental solutions. I will soon post an article in Triple Pundit on GreenPlumbers, a U.S. non-profit that offers training courses to plumbers based upon the plumbing best practices learned in Australia where water consumption has been cut in half in response to their record drought.
Denver Water is subsidizing a GreenPlumbers programs with participating homes realizing 50% water consumption reductions. If water is the next oil and our future is one of $3 per gallon water prices then local best practices like grey water use and rainwater recapture will be a huge part of the solution. In addition, roof top solar energy is probably price competitive right now compared to net-zero emissions coal-fired and natural gas-fired electricity.
We just don't see this in our electric bills because CO2 emissions are still free. But this will change and when it does roof top solar will grow in its economic appeal. You didn't ask, but I actually believe the $1/watt battery that offers reliable and extended supplies of stored electricity will be the technology breakthrough that truly revolutionizes energy similar to the micro-chip's impacts upon computing.
* * * * * * *
Connections –
Bill Roth
bill.roth at earth2017 dot com
www.earth2017.com