The Gadget Grid Men and the Localization Cowboys: Green:Net 2010 - by Willi Paul, PlanetShifter.com
Submitted by Willi Paul on Thu, 04/29/2010 - 16:15
Axis:Image: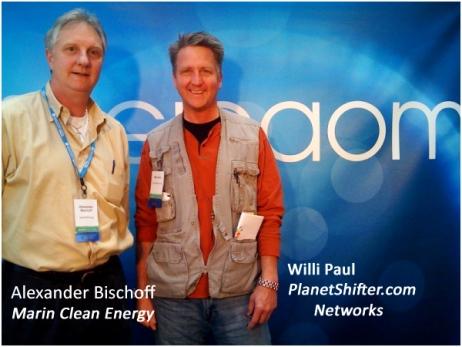 The Gadget Grid Men and the Localization Cowboys: Green:Net 2010 - by Willi Paul, PlanetShifter.com
Green:Net 2010, 4/29/10
The Gigaom Network and earth2tech produced an impressive cache of cameras recording, big screens blazing and wealth a gurgling today, but they forgot one thing: the community.
For my half-day in the chilly shadows of the Mission Bay new urbanism of South of Market San Francisco, I didn't hear anyone use the word (or even ponder the concept of) localization. This is the Old New Boys/Girls and their new smart grid market.
I did hear these things echo off of the business leaders in Mission Bay Conference Center:
"Thinking like the utilities."
"Connecting devices."
"We need 40 participants in the ecosystem."
"Open System."
"Point solutions vs. Integration Strategies."
"GreenTechSpeak" for the same ole lust for capital, control of public resources, and cloaked power for the same old tiny minority.
No one in their right minds sees PG&E as a leader in sustainability and community investment, let alone small scale energy technologies that should put them out of business soon. The company's capricious and self-serving corporate campaign against the Marin Energy Authority and their Marin Clean Energy program, is fairway-driven by their bad meters and the draconian Proposition 16 pro-public farce, and only supports the community power imperative.
Greenpeace International, a fish just out of water in a few corporate server rooms, has their cool-it-challenge but must get back to the people's fight and defeat Proposition 16 and lead the spread of community run electricity like wild fire before the Marin Light quiets.
What we need to re-engineer is not the technologies to better extract the e-bill payment from the people -- but the community take-back and investment control of the generation, distribution and delivery of our electricity, and the production and re-distribution of residential and business electricity back to the new community grid.
In this post-oil epoch, we are all dangling on the edge of the new "greenworld."
Who will catch you?
* * * * * * *
Comments? Join and discuss this post in the PlanetShifter.com LinkedIn Group