A Depth Psychological Exchange on Alchemy, Mythology, and Permaculture: A Candid Conversation with Bonnie Bright and Author/Researcher Willi Paul, Founder of planetshifter.com & PlanetShifter.com Magazine on depthinsights.com radio
Submitted by Willi Paul on Fri, 03/11/2011 - 11:08
Axis:Image: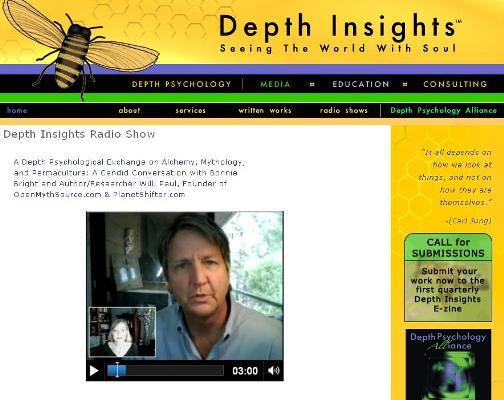 A Depth Psychological Exchange on Alchemy, Mythology, and Permaculture: A Candid Conversation with Bonnie Bright and Author/Researcher Willi Paul, Founder of depthinsights.com radio
Join Bonnie and Willi as they discuss ecopsychology, psycho-ecology, whether the world needs new myths, tools for a planet in crisis, and what to expect in 2012 and beyond.
* * * * * * *
Bios -
CommunityAlchemy.com. Willi's recent collaborative works include:
- A Quest Lecture in the New Permaculture Mythologies and Alchemy
- Mythic Mandate Workshop – Mapping the Sacred
Bonnie Bright is the principle and founder of Depth Insights. She holds a double M.A. in Depth Psychology and is pursuing a PhD at Pacifica Graduate Institute in Santa Barbara, CA, having completed Master's Degrees at Sonoma State University and Pacifica.
Bonnie recently founded Depth Psychology Alliance, the world's first online academic community for those who are active and interested in the fields of Depth and Jungian Psychologies. in 2010. The Alliance is a hub for finding depth psych-related events, blogs, videos, articles and for discussion, learning and connecting.
"Depth Insights" provides Media and Content for Depth Psychology Alliance.
If you are interested in interviewing with Depth Insights, please email:
Info at depthinsights.com