Willi Paul's Children's Video: "Forest Vibrations * Sacred Lights" selected for Depth Insights, Vol. 5, p. 40. Fall 2013.
Submitted by Willi Paul on Sun, 10/06/2013 - 18:44
Axis:Image: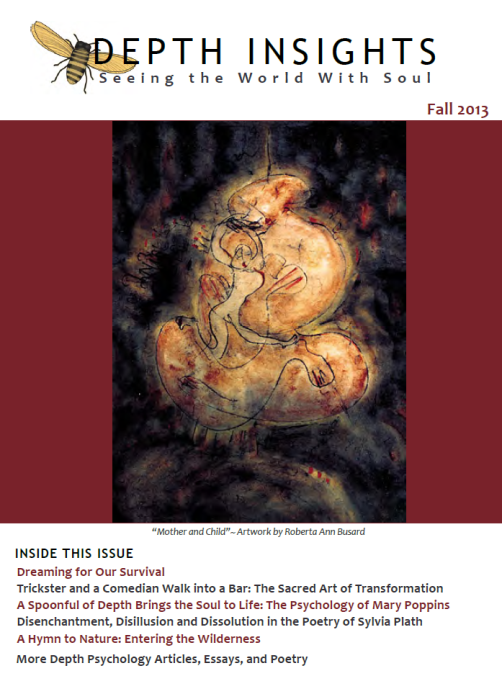 Willi Paul's Children's Video: "Forest Vibrations * Sacred Lights" selected for Depth Insights, Vol. 5, p. 40. Fall 2013.
The Artifact (video)
Guest Artists:
"Vision": Song by Steve Tibbetts
12 Paintings by Simon Haiduk
* * * * * * *
Introduction to the Myth Lab
It is envisioned for neighborhood activists and media savor collaborators where a group of 4 – 12 participants spend 60 minutes to analyze a pre-selected Artifact and produce a new myth. New Myth # 42 is generated by a song by Steve Tibbetts and 12 paintings by Simon Haiduk and serves as a third example for creating new myths. The artifact is a video from the duo.
A process model is included that illustrates mythic imprinting with more depth. The goal is to integrate permaculture, transition, Nature and sustainability with the values and struggles in the Chaos Age. The Myth Lab is designed as an interactive, open source and iterative experience. One goal is clear: we need to build our own messages and new myths to support our new food and governance systems.
Key Terms
Artifact – The Imprintable Artifact is a Nature-Human combination; examples include graffiti, a bill board, historic sculpture, and a permaculture garden, with special powers and messages to the neighborhood.
Mythos - The pattern of basic values and attitudes of a people characteristically transmitted through myths and the arts.
New Mythology – Is a call for new Nature-based, globally integrated stories without allegiance to any classic mythologies. New Mythology incorporates new symbols, new alchemy and climate change era rituals and is built for the future.
The Transition Movement includes new business exchange schemes where waste is used by another business; Transition is garden sharing that allows gardeners to re-use barren lands; the movement encourages people to choose local food and offer support for smart bicycle and mass transit systems.
Mythic Imprinting - Imprinting is defined as a two-way interaction with a selected Artifact that has generates synergistic meaning for both participants and the Artifact. Called "mythic imprinting" in the Myth Lab, this iterative and transmutative process is grounded in the initiation, journey and hero work from Joseph Campbell and is one way that neighborhood artifacts can help neighbors generate new songs, poems and myths.
Willi Paul's Bio -
Active in the sustainability, permaculture, transition, sacred Nature, new alchemy and mythology space since the launch of PlanetShifter.com Magazine on EarthDay 2009, Willi's network now includes four web sites, a LinkedIn group, 3 tweeter accounts, a G+ site, multiple blog sites, and multiple list serves.
Mr. Paul has released 12 eBooks, 2140 + posts on PlanetShifer.com Magazine, and over 500 interviews with global leaders (site 1 & site2). He has created 48 New Myths to date and has been interviewed over 25 times in blogs and journals.
In 1996 Mr. Paul was instrumental in the design of the emerging online community space in his Master's Thesis: "The Electronic Charrette.." Willi earned his permaculture design certification in August 2011 at the Urban Permaculture Institute, SF.
Please see his cutting-edge article at the Joseph Campbell Foundation and his pioneering videos on YouTube. His current focus is Myth Lab - a project that Willi presented at his third Northwest Permaculture Convergence in Portland, OR.
As a Senior Manager, Mr. Paul has worked for several Northern California sustainability, civil and software engineering firms. He now works part-time as a design / relocation consultant in the Bay Area. Willi's consulting work is at PlanetShifter.com