"Gathering of the Tribes Radio" presents a live conversation on ozcat radio with Willi Paul Writer / Publisher of Planetshifter.com Magazine
Submitted by Willi Paul on Mon, 05/12/2014 - 08:59
Axis:Image: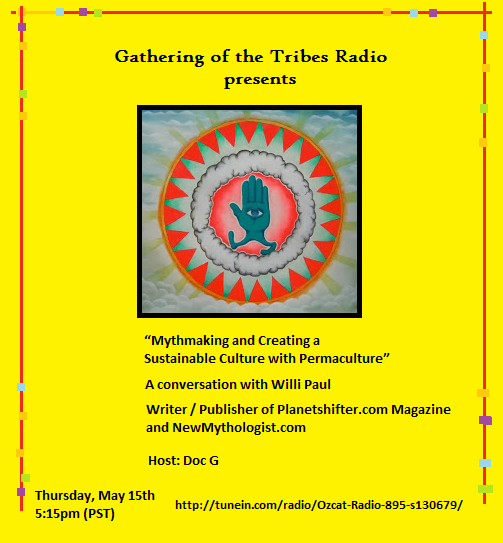 Gathering of the Tribes Radio presents a conversation with Willi Paul
Writer / Publisher of PlanetShifter.com
Willi's Outline of Responses for Doc G Topics for 5-15 Radio Show
* What is the role of the mythmaker in society?
The role of the mythologist is to make the journey, get involved and format and broadcast the lesson. The role is to lessen the fears of the community and illuminate the future; to blend science & art with alchemy.
To build the new mythology tool kit and contribute to new rituals. To reach beyond te old, tired classic myths and reflect modern day issues like global warming, drought and community decay; loss of species and address more positive ideas like organic foods and recycling.
* Describe the act of mythmaking for the community... does the individual have the power to shift perceptions through "storytelling"?
The Myth Lab is a process that anyone can use to build new myths. It starts with an artifact and works with mythic imprinting.
At the individual level, yes by seeking out relevant myths; by creating myths that speak to the community and our world; by voicing or acting out myths.
More than shifting perceptions, an active embrace of myth can elevate awareness and spirit.
* What is Permaculture, how is it accessible to members of the community?
Permaculture is a 30 year old agriculture design science that incorporates natural conditions as you farm to maximize yield. Global – local ethics and principles. Much focus on food systems.
PDC (Permaculture Design Course) is readily available online now. The key for the mythologist is utilize permaculture stories and advance the spirit and the sacred through Nature. Permaculture lacks a formalized support for spirit and the sacred and is weakened by support of capitalism.
* Can Human Culture be considered as a meta-organism, with evolutionary properties?
Inter-dependencies are obvious: weather, energy sources and food. But humans cannot exist without animals, plants the Earth.
Whether or not humans are evolving or not is up for debate! Look at the mess we've created. Look at GAIA as the holistic spiritual planet for the basis for evolution.
* * * * * * *
Topic: "Mythmaking and Creating a Sustainable Culture with Permaculture"
Show Host: Doctor G
Time: Thursday, May 15th, at 5:15pm (PST)
Where: Tunein broadcast live & online and on 89.5 FM in the northeast San Pablo Bay Area, courtesy of OzCat Radio
Willi's Bio
Selected Media by Willi Paul:
* Life in the Edge - an edu-video on Permaculture Principle 8
* JOURNEY TO CASCADIA - Building a New Global Mythology. For the 2012 Study of Myth Symposium