Willi Paul and Planetshifter.com Magazine present the Santa Barbara Mythic Roundtable: "Tools and Inspiration for Creating New Myths" on 1/22/15, 7 to 8:30 PM, at Granada Book Store, Santa Barbara, CA
Submitted by Willi Paul on Tue, 12/09/2014 - 14:09
Axis:Image: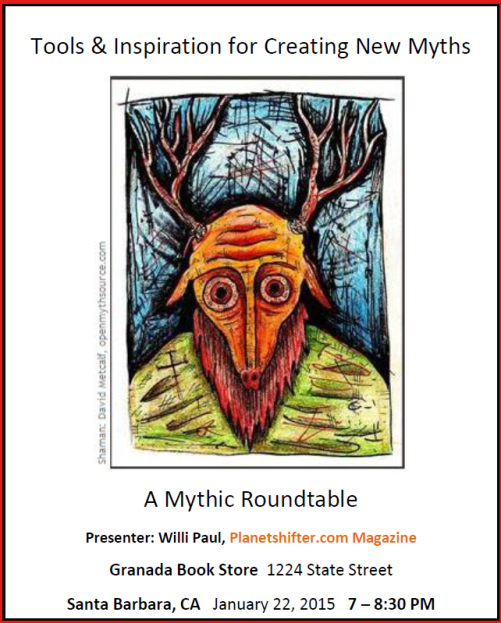 Willi Paul and Planetshifter.com Magazine present the Santa Barbara Mythic Roundtable: "Tools and Inspiration for Creating New Myths" on 1/22/15, 7 to 8:30 PM, at Granada Book Store, Santa Barbara, CA
Paul will read one his recently published "New Myths" and engineer a live "Myth Lab" exercise that will generate a new myth with the audience. Writers, artists, mythologists, storytellers, teachers and activists are encouraged to attend the roundtable.
For complete bio and event information for Mr. Paul, please download the Santa Barbara Mythic Roundtable event poster and press release - attached at the bottom of this post.