"blood, soil, seed" – "An Integrated System to Create New Permaculture & Transition Rituals & Myths" by Willi Paul, CommunityAlchemy.com
Submitted by Willi Paul on Tue, 01/27/2015 - 12:58
Axis:Image: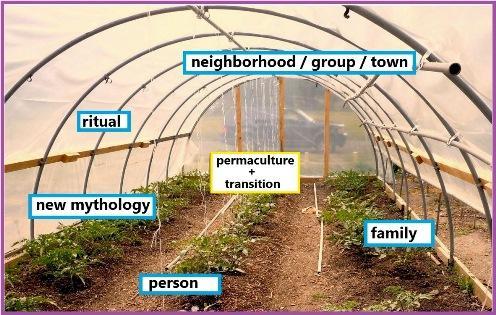 "blood, soil, seed" – "An Integrated System to Create New Permaculture & Transition Rituals & Myths" by Willi Paul, CommunityAlchemy.com
"Similar to dozens of other community "food forests" emerging in cities such as Seattle and Portland, the intention of the orchard is to inspire the community to gather together; to provide itself with a local source of fresh, nutritious food; to put to sustainable use our natural resources of rain, soil, and sunshine; and to spread knowledge of how to bring these techniques to more gardens. Proponents of the project hope its success will help lead to other community orchards in the area, such as along the new rail to trail line, or the Santa Cruz Riverwalk."
"Myth is subjective truth, your truth and my truth, not the truth. 'We communicate our truth through stories, symbols and rituals. We inherit them from our ancestors and pass them on to our children. Mythology is the study of these stories, symbols and rituals and the subjective truth they reveal. … if we value mythology, then we will value subjectivity, pay attention to other truths and expand our own truth. This is the power of myth….'
* * * * * * *
A great tree has been a symbol of choice of the permaculturists, Christians and many other religions for many years: solidarity, Nature, food, shelter, resilience. Trees are prominent anchors in kid stories, forest songs, farm legends and world myths.
As we grow trees, enjoy their fruits and sing their praise, supporting our gardens with green houses (or hoop houses as shown in the illustration), we seed, water and enjoy rituals.
The path to new mythologies begins with each individual, where we experience life and make choices, supported by our families. Families gather together in neighborhood or civic groups for friendship and seasonal events. It is with these stages that new rituals can be created, performed, evaluated and refined.
New Mythology can be created by us in this synergy.
* * * * * * *
A Map to New Rituals and Myths
Permaculture + Transition Values – love of Nature and a local economy
New values drivers and edu-accelerators that replace worn-out religious practices
Person - where dreams, archetypes and symbols work
Visions and pollination for a new planet start with each of us
Family - heritage maps and first rules to live by
We learn, test and change the generational wisdom with our parents and grandparents
Neighborhood / Group / Town - community growth and security
Our second family where we build the day by day online and offline
Ritual - celebrating the sacred
Have you enjoyed a tree planting or sharing event yet?
New Mythology – universal stories, systems of value codes for how to live with the Planet
We are the hoop house dance, the new soil generation and the sweat to see us through
* * * * * * *
Every night I vibrate internally
That's my form of prayer
And the angels signal me
"Come over here, mister
Stretch out your glove..."
Cartoon man in the real world
You've got to nail it down
You got to nail it down
I got to nail it down
That ultra unbelievable love
-- Robyn Hitchcock: ultra unbelievable love