"Permaculture, Rewilding and Herbalism" – Interview with The Perma Pixie (aka Taj Scicluna), Dandenong Ranges, Melbourne, Australia. By Willi Paul,Planetshifter.com Media
Submitted by Willi Paul on Sat, 06/20/2015 - 07:47
Axis:Image: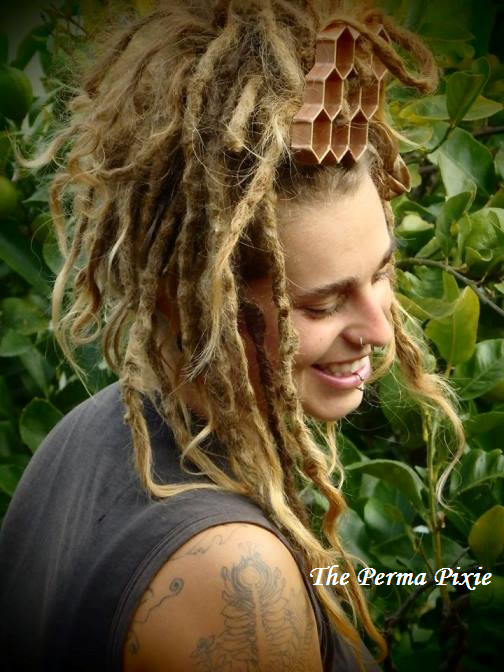 "Permaculture, Rewilding and Herbalism" – Interview with The Perma Pixie (aka Taj Scicluna), Dandenong Ranges, Melbourne, Australia. By Willi Paul, Planetshifter.com Media
"I started practicing Earth-based spirituality quite young, when I was about 11 or so I brought my first book on Witchcraft. It stirred something in me, and I realized that I had been practicing this instinctively anyway. Now that I am a Permaculturist, the two seem to go hand in hand. First of all, let me mention that Permaculture has no religious or spiritual connotation, it is a Design Science based on Systems Ecology. There are many ways to define Permaculture, and I do not think one definition is 'right'. Permaculture is many things, and has now been taken and adapted by many different cultures and people. My definition of Permaculture is 'Careful Research, Planning and Design of Social, Building or Landscape Systems which mimic Nature for Maximum Efficiency'.
Permaculture considers each element and its relationship to all other elements within that system, aiming to create a multi-functional, closed loop system. To me, Permaculture is common sense. So it may be a shock to some saying that Earth based spirituality and Permaculture are elements which combine fluidly in my life. Sometimes talking spirituality (and having dreadlocks) somehow means you are taken less seriously. I do not believe science and spirituality are mutually exclusive, and if Permaculture looks to many ancient cultures for its inspiration, we are truly missing the myth, story, culture and spirituality that often accompany these ways of life. We have lost our sense of ritual in many aspects. Now we have other rituals, whether it is our morning ritual of brushing our teeth or making our coffee... but these do not necessarily connect us to the land."
* * * * * * *
Interview with The Perma Pixie by Willi
One of the first impressions of you in your community is as alchemist. How do you transmute soil and people into new realities?
I am honored to be perceived as an alchemist!
I try to transform energy where ever I go. The second law of thermodynamics is that energy cannot be created or destroyed, only transformed, so I am always trying to transform energy to a more usable form and harness it before it becomes less usable.
This can apply to landscapes and social structures alike.
Soil can be transformed by harnessing the energy of microbes, and giving soil vitality and life. I build as much compost as I can, and am on the path of studying microbes to ensure that our soil is as nutrient dense as possible, thriving with life.
As for people, my goal is to invite them into a completely different atmosphere. I take care when preparing for Herbal and Wild Food workshops to bring all my wooden bowls and jars of herbs... everything is wrapped in twine and printed on brown post-consumer recycled paper... I like to see people's faces light up, for them to feel their life is an amazing and magical place.
My goal is to have an Education center that is a little cottage, with a fire place and a constant cauldron of soup, books lining the walls, many cushions and a massive garden to step into to learn about Permaculture, Herbalism and Rewilding.
What direct experience / lessons from Australian indigenous people have you integrated into your permaculture practice? Are there any conflicts with traditional permaculture methods?
One main conflict that I have experienced is that although developed in Australia, most Permaculture Systems use European plants and animals, unless it is in a zone 4 or 5 system. I understand that this is mainly because most of us eat a diet now that relies on these plants and animals, and because they obtain high yields. I have become a lot more interested in Indigenous food, medicines and management practices, and I believe they have a place in Permaculture design. I like the idea of establishing ecologies that are threatened, whilst still providing food and soil nutrient.
I have now started practicing indigenous fire-making and studying fire ecology and the way landscapes were managed pre-1788. I am hoping to incorporate more of this into my designs and workshops.
Are you balancing activism with making a living?
This is a very interesting question, and I think it fluctuates. It is quite difficult to find that balance, as my goal is to make a living doing what I am most passionate about, and this includes making Permaculture, Rewilding and Herbalism available to people of different social and economic statuses. I do not want to fall into the trap the Western world has of overworking ourselves, as I feel this takes away from being in tune with Nature and understanding the Earth provides all we need, but I am a very hard worker and like to express a lot of 'fair share' in my work, which means volunteering my time.
It's very hard to make a living as a Permaculturist sometimes, and I try to remember I do not 'need' everything this society tells me I do. Obtaining an ethical income is very hard in this society, and I am still trying to find the right balance for me.
Tell us about your spirituality! How does your spirit-force fit with the traditional permaculture view of "no spirit allowed?"
For me, there is no separation. I am co-teaching a course at the moment called 'Sacred Ecology' which is a seasonal exploration of the elements through Permaculture, Primitive Living and Ritual. I am careful not to label it a Permaculture course, and I do really respect the intention of Permaculture having no spiritual or religious connotations, as it is based on an Ecological Science.
Many Permaculture methods and practices have been taken from Indigenous cultures around the world, and most (if not all) had a deep spiritual connection to the land. I do believe that in modern Western society we have lost this connection.
Spirituality is different for everyone, but for me, it's the Earth... its every atom, particle, light wave, frequency, pebble, waterfall, amoeba, bird, moss, microbe.... It's having a deep respect and appreciation that the Earth provides me with all I need to survive, and that it is part of me and I am part of it. There is no separation. I think this connectedness is my Spirituality, and Permaculture has helped me connect deeper.
Folks are headed to the caves, old rocket tubes condos, PDC classes and vegetarian cookbooks in an attempt to get ahead of a crash. Are we in the Chaos Era now? Are you a survivalist, too?
I tend to stem away from problems and focus on solutions. I understand peak oil, peak food and peak soil, but I will never make these a primary focus when teaching. I think there are already enough things that make us feel dis-empowered, and I like to provide solutions for people. I am not saying that there is one answer, or that I even have the answers, but I do believe someone is more capable of making change through love and motivation rather than fear and desperation.
Ever since I was younger I have felt like I have been running out of time. I had no idea why until I really realized the state the planet is in. I do believe we are running out of time to make adequate and appropriate changes to ensure that many kinds of life can continue to exist on this planet. I guess part of the reason I am interested in foraging, fire-making, reading landscape and herbal medicine is that of survival- but it more so stems from an interest to help others, which is why I love educating people about these kinds of things.
My relationship to the Earth and all these practices has not stemmed from a need to survive in an unsure future, but from a deep respect and appreciation that I am alive to experience in the first place, and a want to protect what gives me life.
Are there any special struggles or barriers around being a woman in permaculture?
Yes, there are. Being a woman is one thing. Being a woman with dreadlocks and piercing is another. I have actually had people tell me to my face that they were surprised I was intelligent and focused after speaking with me. People judge at face value all the time, and I feel if I changed myself to appeal to a wider audience then I would be perpetuating the discrimination.
Men are taken more seriously in a lot of areas than women, and this is true in Permaculture as well. A lot of men within the Permaculture movement are very intelligent, incredible, extremely practical people, and deserve to be recognized for their expertise. Many leadership skills are actually male traits, and so women do not appear to gain as much exposure as men within the industry.
One of the main barriers is talking to earth-movers and surveyors- very male dominated industries- where your opinion as a women is not taken on board with as much acceptance and respect. I am hoping that things become a little more balanced in future.
Although I am professional with my work, I do approach course participants with warmth and even nurturing, and that is something I am proud of.
Talk about ancient / new folklore and mythology in your bioregion? Have you designed new songs, dances and poetry with your communities? Examples?
My community has been the Dandenong Ranges for many years, and I feel we have created new songs and processes through the Permaculture Courses that have been held, that hopefully spill into the broader community.
I write poetry and spoken word myself, which expresses how I feel personally about environmental degradation, but I have not designed poetry or song that the community has taken on. I do however, design Permaculture games and processes for teaching, and use story and some indigenous folklore to describe landscape management strategies in a more digestible and interesting format.
One of the many key permaculture / transition movement concepts in my quiver for years is localization. Is this a political process?
The answer to many Permaculture related questions is; it depends. It can be political, and most of the time when dealing with invisible structures such as economics, community and legalities, politics and planning are a large part of this. I believe just as a landscape should have a design, so should a business, social structure or economy. This is where social Permaculture plays a part, and is a facet within the movement which I have become increasingly interested in.
When dealing with landscapes, often there is a predictable action - reaction process. It can be quite easy, with research and design, to shape a landscape and encourage an outcome. When dealing with people and concepts however, things become more complicated. I do believe that in order for us to localize our food and economies, we must learn to accept and respect a wide range of people, and be open to educating one another.
Localization can be taken into the hands of the community, and in many ways we need community backing in order to stabilize our food supply and deal with legalities that do not take environmental rights into consideration. This could well be a political process, but how that process is designed and its outcomes are up to the community.
Taj's Bio –
The Perma Pixie (Taj Scicluna) is passionate and motivated, aiming to inspire and educate people to live more nourishing and sustainable lifestyles using Permaculture, Awareness and Compassion! She has completed two Permaculture Design Courses and a Permaculture Diploma. Taj has run Permaculture Design Courses with Co-Teacher Tamara Griffiths in the Dandenong Ranges, which incorporate interactive and creative teaching methods for all kinds of learning styles. Taj has completed two Permaculture Teaching Trainings, with both Robyn Clayfield and Rosemary Morrow, and self-studies Facilitation and Social Permaculture.
Taj Scicluna is a current Director of Permaculture Australia, and the Board Representative for Accredited Permaculture Training. Her other passions include Herbal Medicine, which she studies, and Spoken word poetry, and she aims to bring back peoples medicine, peoples food and peoples freedom not only through a passionate tongue, but through individual action and community empowerment.
Being introduced to the world of Permaculture in 2007 changed The Perma Pixie's life forever! Through participation in her first Permaculture Design Course in 2009, she felt as if she had finally found something that she could direct her energy to make a difference to the devastation that was happening to the Earth and its inhabitants.
Taj has continued both her formal and informal study of Permaculture, taught Wildfood, Natural Cosmetics, Edible Weeds, Soil Understanding and Herbal first Aid Workshops at CERES Environment Center, facilitated her own Permaculture Design Courses with Tamara Griffiths and Ducky, Attended the first ReGrarians PDC with Darren Doherty, Designed and created the 2013 - 2015 Rainbow Serpent Permaculture Garden and completed Robin Clayfields 'Dynamic Groups' course, focusing on how to teach Permaculture creatively.
During early 2015 she lived as part of 'The Simple Way' Project, to explore Permaculture techniques, Simple Living and Community Involvement. The Perma Pixie has recently completed Rosemary Morrow's Teacher Training in Tasmania, and an Advanced Permaculture Design Course with Dan Palmer. The Perma Pixie has participated in various Bee Keeping, Long-Bow Making and Natural Building courses, interested in the techniques as well as the strategies of Permaculture and Rewilding.
Although her biggest passion is Permaculture Education, aiming to empower others enough to make changes to more sustainable ways of living, she loves to get her hands dirty by designing and creating lush edible wonderlands! Caring for the health and resilience of Bee's and Seed Sovereignty are among her other passions and she wishes to explore and develop her activism regarding these issues.
The Perma Pixie believes in creating a fertile, abundant and diverse planet, one backyard at a time!
* * * * * * *
Connections –
The Perma Pixie (aka Taj Scicluna)
Thepermapixie at gmail.com
www.thepermapixie.com
thepermapixie.blogspot.com
Google +
Willi Paul, Transition Consultant
willipaul.com | Planetshifter.com Media
@planetshifter @openmythsource @PermacultureXch
415-407-4688 | willipaul1 at gmail.com