"Transition Streets Launches in America!" Interview with Carolyne Stayton, Executive Director of Transition US by Willi Paul, Publisher and Transition Consultant at PlanetShifter.com
Submitted by Willi Paul on Sat, 06/27/2015 - 08:31
Axis:Image: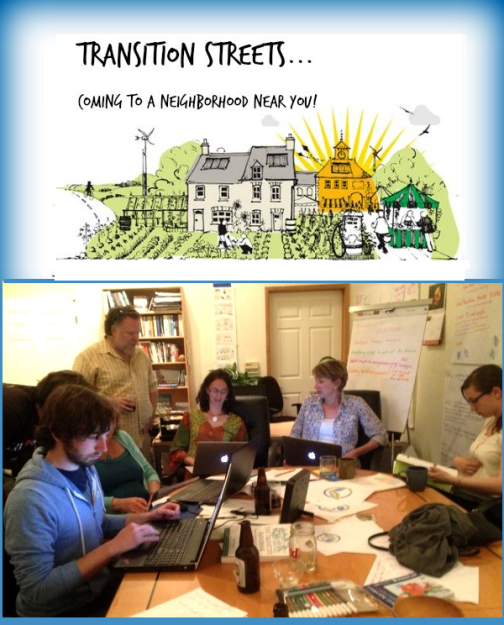 "Transition Streets Launches in America!" Interview with Carolyne Stayton, Executive Director of Transition US by Willi Paul, Publisher and Transition Consultant at PlanetShifter.com
The Transition Streets Approach -
Save Money and Resources: Transition Streets provides a curated guidebook to change, empowering neighbors with proven actions to conserve energy & water, reduce waste, & save money.
Build Community Resilience: As we face the increasing impacts of climate change, now is the time to reduce our reliance on fossil fuels by taking local action to create real global change.
One Street at a Time: Transition Streets brings neighbors together to implement simple household changes, turning fear into action & building community street by street.
Get the Transition Streets Handbook and organize your neighborhood!
* * * * * * *
Interview Carolyne by Willi -
Is Transition Streets (TS) considering input from local Government and corporations? Are there conflicts?
We welcome input from local governments and hope to work with local jurisdictions to help spread Transition Streets. Many municipalities have ambitious, water-, waste-, or carbon- reduction goals and are scrambling to find ways to meet them. We see Transition Streets as part of the portfolio of initiatives that governments will want to support to help catalyze citizen action and change behavior. And not only does Transition Streets change participants' behavior, it also raises general community awareness, so that ambitious carbon and water reduction policies are more readily adopted. Another outcome is the social cohesion that develops from neighbors getting to know each other. Transition Streets forms a solid foundation for times of crisis. This makes the job of first responders much easier.
In terms of business, we would love to see business owners bring Transition Streets to their employees. We imagine that in time we will develop an adaptation for businesses, too. Perhaps "Transition Businesses"?
Many are fearful of the unknown impacts from climate change. How does TS approach this topic?
Transition Streets largely takes the fear out of climate change by moving people into action. One of the greatest antidotes to fear is doing something positive and moving from paralysis into action. Transition Streets engages others in the process (a handful of near neighbors generally do the 7-session project together) and that amplifies the process and turns fear into more of a party.
Competition for both resources and solutions abound in the sustainability sector. Where does TS get money and what is your organization budget?
We built Transition Streets on more of a wing and a prayer, to use an old idiom. The curriculum was adapted from a project of Transition Town Totnes in England by chapter editors in the US we crowdsourced. Volunteers helped craft the new website, chapter images, and outreach materials. Twelve volunteer groups across the country (with approx 6 households each) piloted the early version between January and March of this year. So most of the work was adapted, crowdsourced and made possible through volunteer community leaders. In April we integrated feedback and edits into the version that we launched a week ago at Transition Streets.
In terms of the budget of Transition US - it is approx $150K (and we run other programs too!). We do hope that Transition Streets strikes a chord with funders though. Imagine what we could do with funding!
Is the neighborhood the "best demographic" for getting folks together?
I don't know if the neighborhood scale is the "best" scale for getting folks together or not, but that is the focus of Transition Streets. As mentioned earlier, neighborhood engagement has other advantages like social cohesion. Someone you recognize walking to your front door after an emergency is a welcome sight.
At Transition US we are working on a number of other projects, too. One project called REconomy uses a different lens in building resilience. It focuses on building businesses that are both resilient in themselves (meaning they have a low energy, water, and waste footprint) and they build resilience within their communities, too. By this latter I mean that REconomy businesses provide a service or function to the community that strengthens the fabric of that place. They bring more wealth into the community (i.e. profits might go back into the community, or the businesses might be structured as coops or worker-owned collectives). And they also enrich other enterprises by their presence in the community. But that is another story! We have a number of case studies coming out about this soon so stay tuned!
How does TS deal with natural disaster planning?
Currently Transition Streets helps build social cohesion almost as a by-product. We will be adding an optional emergency preparedness module to it - so look for that in the not-too-distant-future.
Do permaculture tools and ethics play role in your program? Any examples to share?
Yes they do. The Transition Towns Movement (now in over 50 countries!) was founded on Permaculture design principles and these are present in all aspects of this work. Instead of looking at a landscape as Permaculture generally does, the Transition Movement looks at human settlement and observes its assets and flows. From that perspective it is easier to see the design or re-design possibilities.
"Stacking functions" is a Permaculture principle and is evident in the Transition Streets transportation chapter in this one example, which encourages participants to think ahead before making single errands to consider what else might be accomplished in one outing. Also the social cohesion mentioned is a result of participating in Transition Streets and could be seen as "stacking functions".
We are a consumer society (and planet!). What are the underlying values of "credit, spend, and throw-away?"
Credit, spend and throw-away don't really fit in a transitioned world where we live within the means of the earth's resources, where resources are truly cherished. We can see that more and more clearly in California, just how precious water is!
What lessons did you learn from your collaborative crowdfunding campaign?
Collaboration may take more time and considered action on the front end, but on the other side the network and relationships are much stronger. Also, it is great to create a campaign where there are lots of winners.
Who are the local volunteers these days? What are their needs?
Transition efforts are in more than 150 locales across the US, all in different stages of evolution and working within varying conditions. I encourage people to plug into a local Transition Initiative if there is one or consider starting one. Transition Streets is a great beginning to that.
What is the "spirit of TS" like? Who or what do you gain strength from these days?
Transition Streets is positive. It is collaborative and allows participants to shine in so many wonderful ways. It also lays out a clear action plan with low-cost or no-cost options and over 7 sessions to help make changes.
* * * * * * *
Carolyne Stayton Bio –
Ms. Stayton holds a MNA (Master of Nonprofit Administration) and is a dedicated community-builder and problem solver. With almost thirty years of working with nonprofit organizations and educational institutions she has successfully galvanized communities around various social issues by anchoring community vision to pragmatic, tangible steps. She has particular expertise in program development and participative leadership and cherishes "learning" organizations.
Her background includes serving as Director of New College's North Bay Campus of Culture, Ecology and Sustainable Community, an innovative educational institution that promoted advanced studies in leadership, community-building and the nation's first "green" MBA program. Currently Carolyne is the Executive Director of Transition US a national nonprofit that helps communities rebuild local resilience. Carolyne resides in Sebastopol, California where she participates with others in building the future we want to live into.
Connections –
Transition US is a nonprofit organization that catalyzes and strengthens a national network of citizen-powered groups who are building local resilience through community action. TUS works in close partnership with the Transition Network a UK based organization that supports the international Transition Movement, now in fifty countries.
http://www.transitionus.org
Carolyne Stayton
Carolyne at transitionus.org
(707) 824-1554
Willi Paul
willipaul.com | Planetshifter.com Media
@planetshifter @openmythsource @PermacultureXch
415-407-4688 | willipaul1 at gmail.com
* * * * * * *
Other Transition Interviews by Willi Paul -
American Transition: Interview with Scott McKeown, Training Coordinator for Transition US & core team member of Transition Sebastopol
"Building Our Transition Streets!" Interview with Maggie Fleming, Co-Director, Transition US
"Transition Mythology" - Interview with Mythologist / Entrepreneur Willi Paul, by Peter Ruddock, Transition Palo Alto in support of Peninsula Mythic Roundtable, April 1, 7:30 - 9:30 PM, Mountain View Community Center, Free.