"The Pyrethroid Sunflower Man" - The applyresponsibly.org ad campaign by Pyrethroid Working Group (AMVAC Chemical; BASF Corporation; Bayer CropScience; Cheminova, Inc.; DuPont Crop Protection; FMC Corporation; Syngenta Crop Protection; and Valent BioScie
Submitted by Willi Paul on Sat, 08/22/2015 - 13:54
Axis:Image: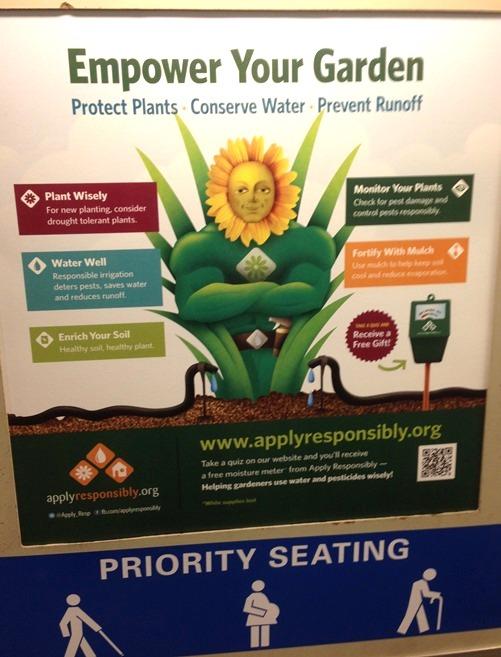 "The Pyrethroid Sunflower Man" - The applyresponsibly.org ad campaign by Pyrethroid Working Group (AMVAC Chemical; BASF Corporation; Bayer CropScience; Cheminova, Inc.; DuPont Crop Protection; FMC Corporation; Syngenta Crop Protection; and Valent BioSciences Corporation). On BART with Willi Paul, Planetshifter.com Media
* * * * * * * *
Many urban creeks in California receive water from residential areas. Chemicals used around the home, including home and garden pesticides, can move from where they are applied and run off through the storm drain system into these creeks. By following a few simple rules for handling and disposal of pesticides, you can play an important role in helping prevent this type of runoff and in preserving California's water quality and environment.
Don't miss the profits for the pesticides.
* * * * * * *
I was riding on BART yesterday when a smiling green garden nymph with huge muscles and a pesticide sprayer jumped by into my travel weary consciousness. The poster is part of a new sales pitch called applyresponsibly.org by Pyrethroid Working Group (PWG). These guys are promoting "sound science and the responsible use of pyrethroid-based pest control products."
PWG is fueled by something called "the Stewardship." Details on the Stewardship and how PWG looks at permaculture were not found at their site. The following chemical companies are members of the Stewardship: AMVAC Chemical; BASF Corporation; Bayer CropScience; Cheminova, Inc.; DuPont Crop Protection; FMC Corporation; Syngenta Crop Protection; and Valent BioSciences Corporation.
On their web site the song and dance spins like this:
"Like all Californians, we care deeply about the need to protect our water and environment. This web site was developed out of a commitment to ensure that our products are used properly around the home and garden."
"If you are a gardener or homeowner who chooses to use pesticides, we urge you to apply them responsibly. By following a few simple rules found on this site you can play an important role in preserving California's water quality and environment."
applyresponsibly.org peddles "home and gardens" videos on subjects like:
1) How to build a compost bin
2) Garden Maintenance & Tools
3) How to Build a Raised Garden Bed
4) Small Garden Irrigation Ideas and Tips
5) Lawn Care
* * * * * * *
Pyrethroids are a special chemical class of active ingredients found in many of the modern insecticides found on store shelves and used by pest management professionals. Not all pesticides in the same class are equally toxic, or equally effective the same pests. Nevertheless, most pyrethroid insecticides share the following characteristics:
• Low in toxicity to mammals and birds;
• High in toxicity to fish if applied directly to water;
• Require very low doses to kill insects (high arthropod toxicity);
• Fast-acting;
• over the dry residue;
• Bind tightly to soil and organic matter (therefore not as effective in penetrating soil to kill underground pests);
• Dissolve very poorly in water.
• Especially effective against chewing insects, though many pyrethroid insecticides can be absorbed by the insect pest when it merely walks
* * * * * * *
What about Integrated Pest Management? (IPM)
A healthy landscape and plant community relies on certain insects and animals for pest management. Permaculture Artisans designs plantings and habitat to achieve this goal in all our landscapes and farms.
The right sort of plant guild (community) will deal with most of your pest issues as long as your soil is healthy. Many kinds of insects are beneficial to a sustainable design.
The kinds of plants that provide the best beneficial insect attractants are flowering perennials and reseeding annuals. Many of these plants are very beautiful and have multiple functions such as for cut flowers, food, and as medicine. We inter-plant these kinds of plants throughout the landscape to attract beneficials to all parts of the landscape.
By building habitat for frogs, lizards, snakes and salamanders an amazing amount of pest control can be achieved. A well placed pile of rocks, a log border or a small pond creates habitat, allowing these animals to work for the health of your landscape. PA uses many different techniques to provide homes to these important members of your landscape's community.
Check out this site for additional ideas on IPM.
* * * * * * *
Children and the Pyrethroid Sunflower Man
Finally, and most importantly, back to the sneaky mythical creature on the poster. The asexual brown face with the snakes for garden hoses. What do you think that "Monsanto Affiliate Badge" is doing on the chest?
An interesting integration of the Cowardly Lion from the Wizard of Oz, Jolly Green Giant, Michael Jackson, Peter Pan and the Orkin Man! Would your kid want a stuffed toy called the Pyrethroid Sunflower Man? I believe it comes with that pesticide sprayer gun.
Kill wisely, Mother.