"Connecting Nature with Symbols and Gratitude" – Vision for Children by Willi Paul, Planetshifter.com Media
Submitted by Willi Paul on Sun, 02/07/2016 - 14:34
Axis:Image: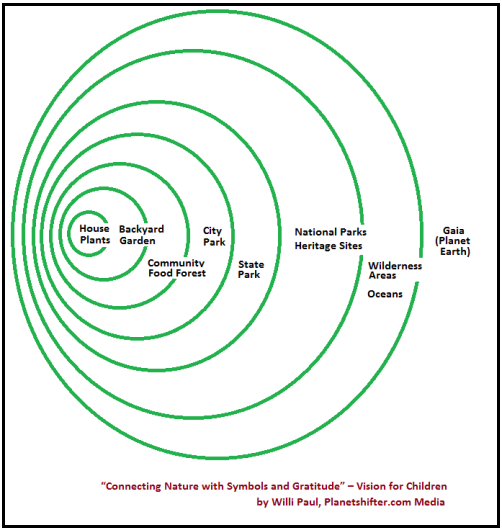 "Connecting Nature with Symbols and Gratitude" – Vision for Children by Willi Paul, Planetshifter.com Media
Gratitude is thankfulness.
* * * * * *
As the illustration relays, it matters not what the size of the Natural spaces one is traversing, the symbolic and enjoyment of Nature remains vibrant and intrinsically powerful whether one is watering the plants on the back porch or hiking in a State Park.
Our gratitude of Nature remains steadfast - and scales.
Nature symbols are connective tissues for our gratitude of Nature.
The symbols for Nature have meanings that are congruent and overlap. The following symbols are offered for each type of experience in Nature:
House Plants –
Symbol: A living pine tree leftover from a X-mas tradition
Backyard Garden –
Symbol: A coiled rubber hose
Community Food Forest –
Symbol: A small too and seed shack made of re-cycled materials
City Park –
Symbol: Grass lawns and a band shell
State Park –
Symbol: Trails and Parking Lots
National Parks –
Symbol: Huge acreages and Nature-based branding
Heritage Sites –
Symbol: Emotionally-charged, historical images and stories
Wilderness Areas & Oceans –
Symbol: Mystery and spirit for tall mountains and deep oceans
Gaia (Planet Earth) –
Symbol: One Heart, One Love for All
* * * * * *
How do you express your gratitude for Nature?