"Permaculture. Racism. Oakland." Interview with Troy Hudson, Organizer, Town and City Permaculture by Willi Paul, Planetshifter.com Media
Submitted by Willi Paul on Mon, 02/15/2016 - 14:22
Axis:Image: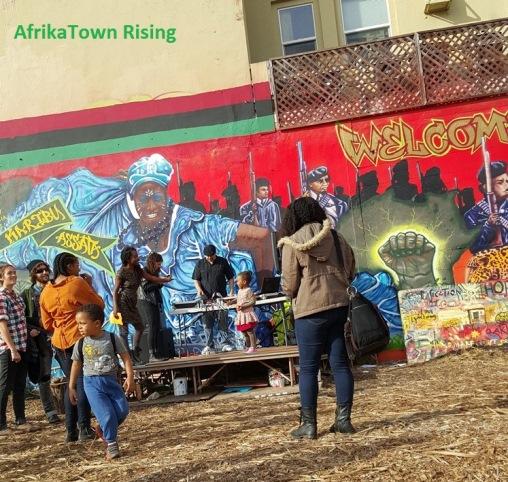 "Permaculture. Racism. Oakland." Interview with Troy Hudson, Organizer, Town and City Permaculture by Willi Paul, Planetshifter.com Media
Town and City Permaculture, along with some allies who care about diversity in permaculture more than just lip service are putting together a permaculture meet and greet/"social" for the purpose of bringing people together; to broaden the Permaculture scope and infuse some diversity.
Our focus is to bring working-class youth, people of color, indigenous folks, food workers and elders into the fold.
This event will be held at Qilombo Community Center. There will be good food (bring potluck dish), conversation, brainstorming, and work on solutions to fix the lack of diversity in permaculture. Come on out and show your support! - Troy
What: Town and City Permaculture Community Social
Where: Qilombo Community Center
2313 San Pablo Ave. @ West Grand, West Oakland
Date: Sunday, Feb 21
Time: 1 to 5 pm
* * * * * * *
Interview with Troy by Willi
One of the challenges in the permaculture dream is access to land. Is this part of your struggle to grow and share with your community?
Yes we are currently struggling with access to land, especially land where youth can use as a sanctuary and place to practice permaculture. I recently reached out to some folks at a dilapidated and neglected community garden. I observed it in this condition for a few years. But they declined to let me bring youth in to the garden for rejuvenation. Hayes Valley Farms was shuttered for condos. So access to land is definitely a major effort.
How does permaculture promote art and stories?
Permaculture gives us different lenses to view our world and environments through and it tells you that you don't necessarily have to be getting your hands dirty in the soil to practice permaculture ethics. In that way I see people deciding to build community through dance, hip hop, murals and other forms of art; to express themselves and give back. Since permaculture was founded on the study of ancient and indigenous ways, a lot of learning is passed through stories of these histories.
Where do you get seeds for your projects?
From seed swaps, the Richmond seed library, B.A.S.I.L. at the East Bay ecology center, and Merritt College Horticulture Dept.
Racism is deeply embedded in American culture. How does this dark force work inside and outside of Town and City Permaculture (TCP)? How are you counter-acting it?
There are allies within the Permaculture movement. But permaculture is very much colonized. At many permaculture events I've been to, I've been the only person of color. And definitely the only black man in attendance. That's why we're gonna strive at Town and City Permaculture to give poor working-class and people of color exposure and access to their legacy - which is Earth Care and connectedness to the land!
What are the values of the Qilombo Community Center (QCC)? It is a safe place to educate and entertain?
Qilombo is for "the people" and has a vision of establishing a thriving AfrikaTown in the community. They are politically radical and are demanding access to land and resources for the uplifting of black folks, as well as indigenous and other oppressed people. They continue to create safe environments for the community.
What did you learn from Christopher Shein of Wildheart Gardens?
I continue to learn from him. He is a walking permaculture encyclopedia. I began to learn permaculture theory from "Bluetape" Jay over at Hayes Valley Farm. I learned much of my practical know how in applying permaculture principles from Christopher.
Your Feb 21 event at QCC will focus on the lack of diversity in permaculture – to "broaden the Permaculture scope." Please explain the problem and offer some insights into possible solutions.
Well there's the high cost of PDC's, so people of color are typically in the lower income brackets and often excluded due to cost. Then there are the people who are currently holding the keys to Permaculture. They need to learn how to practice Fair Share. Like at a permaculture guild meeting I attend, it's basically co-opted by white males who run their agendas first. These guys have no qualms with scheduling a work-party event on the same day as our diversity event at Qilombo.
I've been to various events and volunteered which have been dominated and operated by white folks. None have come to our events. That we typically put on our agenda: "permaculture for the people."
Do you think that permaculture can solve the gun problem in America?
Permaculture is definitely a better solution than any put forth by our governments. Permaculture shows people how to work on themselves and their environments. And gardens and urban farms are typically peaceful.
You write that: "It takes a village" on your web site. What are the emotional and geographic boundaries of TCP?
Emotionally we just have to use permaculture to work on ourselves: Zone 0. Geographically there are really no boundaries. Our vision is to assist the people in accessing land and permaculture, wherever possible.
* * * * * * *
Troy Hudson Bio -
I was born and raised in East Oakland. Grew up with my neighborhood ravaged by the crack epidemic. As kid's we found solace in hunting out the neighborhood fruit trees. As I grew up I became disconnected from the land. Growing up in what many call the concrete jungle and even the killing fields! I didn't get back into nature and the land until I stumbled across the Hayes Valley Farm in San Francisco. That's where I was introduced into permaculture. And fell in love with the idea of Earth Care, People Care, and Fair Share. From there went up to Merritt College to get my there PDC.
I also received PDC's from Living Mandala and Daily Acts in Petaluma. I've worked with Christopher Shein of Wildheart Gardens. Installing permaculture landscape and gardens. Currently focused on bringing permaculture to poor and working class communities. In hopes to get people from these demographics. To become more in touch with their own roots and the land. One of my main focuses right now is bringing permaculture to Qilombo community center and the disadvantaged youth in the surrounding Oakland/ Bay Area.
Willi is active in the sustainability, permaculture, transition, sacred Nature, new alchemy and mythology space since the launch of PlanetShifter.com Magazine on EarthDay 2009. Willi's network now includes multiple blog sites and numerous list serves with a global presence.
SF. Mr. Paul has released 25 eBooks, 2335 + posts on PlanetShifter.com Magazine, and over 350 interviews with global leaders. He has created 76 New Myths to date and has been interviewed over 30 times in blogs and journals. Please see his cutting-edge article at the Joseph Campbell Foundation and his pioneering videos on YouTube.
In 1996 Mr. Paul was instrumental in the emerging online community space in his Master's Thesis: "The Electronic Charrette." He volunteered for many small town re-designs with the Minnesota Design Team. Willi earned his permaculture design certification in August 2011 at the Urban Permaculture Institute.
Willi's current focus includes the integration of permaculture, mythology and the Transition Movement.
Mr. Paul's eGroups -
Depth Psychology Alliance - New Global Mythology Group Founder
LinkedIn - New Mythology, Permaculture and Transition Group Founder
G+ Permaculture Age Group Founder
Connections –
Troy Hudson, Organizer
Town and City Permaculture
ndancer93 at gmail.com
Willi Paul, Mythologist
planetshifter.com media | academia.edu portfolio
@planetshifter @openmythsource @PermacultureXch
willipaul1 at gmail.com