"Sound Archetypes and the Four Seasons" – Children's Video and Documentation by Willi Paul, Planetshifter.com Media
Submitted by Willi Paul on Sun, 03/06/2016 - 12:26
Axis:Image: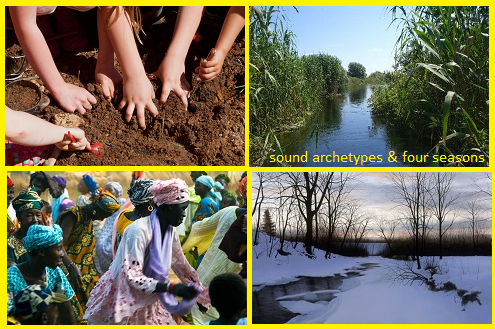 "Sound Archetypes and the Four Seasons" – Children's Video and Documentation by Willi Paul, Planetshifter.com Media (+PDF)
Document: http://www.planetshifter.com/node/2340
Video: https://youtu.be/j_UtSeKkTwY
* * * * * * *
In a strange game
I saw myself as you knew me
When the change came
And you had a chance to see through me
Though the other side is just the same
You can tell my dream is real
Because I love you, … can you feel it now?
"On the Way Home" by Neil Young
"Change the (sound) archetypes and change the world." But how? - Willi
* * * * * * *
Archetype and Sound Archetype: a constantly recurring symbol, sound or motif in literature, music, painting, or mythology that works at the dream and sub-conscious – conscious boundary (adapted) that drives fears, joys and imagination. Is it a matter of debate as to whether archetypes can be changed (or added) since pre-historic time.
I believe that archetypes are malleable forces, often era-centric and their interaction can help support the evolution of human values and our experience together.
Archetypes are sound segways and emotive connectors.
* * * * * * *
In the children's video, I combine text, visuals and sound to call-out the archetypes of the Four Seasons. Archetypes, including Sound Archetypes, are critical elements in the creation of new stories, rituals, traditions and global Mythology.
Permaculture and Transition are new movements that are bringing us new global symbols and values with their new archetypes, challenging us at sub-conscious - conscious boarder.
* * * * * * *
Sound Archetypes and the Four Seasons -
Spring:
Symbols – Planting Seed Crops, Cool Rain, Digging the Rows
Archetypes of Procreation: Renewal, Prayer
Sound Archetypes – Digging in the Soil
Summer:
Symbols – Weeding / Irrigating the Fields
Archetypes of Gestation / Incubation: Growth, Watching the weather as Crops Grow
Sound Archetypes – Channeling Water
Fall:
Symbols – Harvest Basket, Compost Pile
Archetypes of Community: Collecting, Celebrating, Soil Building
Sound Archetypes – Women Celebrate Harvest
Winter:
Symbols - Cracking Ice on a Frozen Lake, Canned Foods, Dried Fish
Archetypes of Transition: Decay, Meditation, Repair, Hibernation, Preparation
Sound Archetypes – Ice Breaking on River
* * * * * * *
References -
WILDpermaculture - Mixing ReWilding and Permaculture with Symbols. Lesson Plan
Big Bang Mythology – Steve Tibbetts and 7 Sound Archetypes
Permaculture, Carl Jung and the New Archetypes
Building a new sound symbol library for global community storytelling. Videos (3) + Lesson Planning
sounds symbols myths - Interview with 4 New Composers plus 6 Sound Myths (SCORE). eBook #17
Pre-Mythic Symbols and Archetypes - Biomimicry and the Hunters and Gatherers – Lecture Outline
resilience in our age of dementia - permaculture sound cartoon. SCORE Video. New Myth #62
http://planetshifter.com/node/2203 target="blank">DUSK: Sound – Symbol - SCORE Design for Children's Permaculture Stories. Video. New Myth #61
Sound as Myth: Initiation and Journey at the Sonic – Human Interface from [ open myth source ]
http://planetshifter.com/node/2206 target="blank">lawyers, guns and water - permaculture sound comic. New Myth #64
water sound symbol myth: building new nature-based myths (Video)
Words, Color, Sound Samples: Symbols for Kids Art, Video Short
Permaculture, Carl Jung and the New Archetypes" (+ PDF) by Willi Paul, New Global Mythology Group @ Depth Psychology Alliance
Willi Paul Tribe - permaculture cortex - sound sketches for the Chaos Era
Permaculture Teaching Video #3 - Sacred Alchemy & Symbols for the Permaculture Transition. Filmed & Edited by claroscura.com
SoundSourcing: Building the New Permaculture - based Mythology Video / SoundScape