"My Quick Permie Asia Chat" with Howard Story, Founding Director / CEO at Permaculture Institute of Asia by Willi Paul, Planetshifter.com Media
Submitted by Willi Paul on Tue, 04/05/2016 - 13:56
Axis:Image: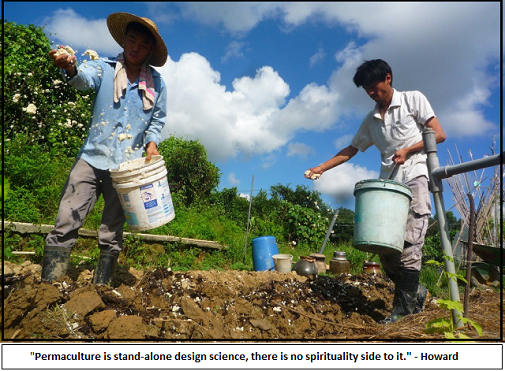 "My Quick Permie Asia Chat" with Howard Story, Founding Director / CEO at Permaculture Institute of Asia by Willi Paul, Planetshifter.com Media
Willi: You write: "We live in a time of disruptive change,…." How is permaculture a disruptive force? Examples?
Howard: Permaculture teaches sustainable living and growing your own food. This is very disruptive to the current industrial, chemical food system. Growing your own healthy food is unusual and not the norm.
Willi: Can you teach permaculture online?
Howard: Yes - the ethics and principals of Permaculture can be taught online. also all the theory, but at some time a Permacultureist needs to attend a Permaculture demonstration center and get hands on experience.
Willi: I imagine that access to agri-land is an issue in Asia as well as in America. Can you live a permie life without land?
Howard: Yes - you can take all the principals of a Permaculture life and apply them to urban living. This includes balcony gardens, roof top gardens, and Bio-intensive gardens, which all allow the growing of food in small spaces.
Willi: Tell us what we should know to actionize UN Agenda 21 and the UN Millennium Project and its Eight MILLENNIUM DEVELOPMENT GOALS to eliminate global severe poverty completely by 2030.
Howard: We need to use Permaculture and its associated technologies to lower energy use, build soils, improve crop yields. Also the to empower social inclusion in all areas of the globe.
Willi: Is there racism in permaculture in Asia?
Howard: There is system of racism in Asia. However, this is changing. Remember many cultures in Asia are over 4000 years old.
Willi: Is permaculture a sustainable life for communities in Thailand? Do folks live off the land there?
Howard: N/A
Willi: What are some early lessons from WWOOF Thailand?
Howard: The average age of farmers around the world is over 60. WWOOF is akin to an organic agricultural extension service. It is a testing and training ground for young farmers.
Willi: Can permaculture and spirituality combine? How do Asians see this intersection?
Howard: Permaculture is stand-alone design science, there is no spirituality side to it. Although some include Yoga and meditation in some centers.
Willi: Please share some new permaculture stories / songs based on your work there.
Howard: We just completed our 4th Annual Permaculture Convergence in Thailand. It was great to see many youth involved and interested in organic farming.
* * * * * * *
Contacts –
Howard Story
Founding Director / CEO
permacultureInstituteAsia.com
PermiesAsia at gmail.com
Willi Paul
New Mythologist & Transition Entrepreneur
PlanetShifter.com Media | Academia.edu Portfolio
@planetshifter @openmythsource @PermacultureXch
willipaul1 at gmail.com