New Book: "MythicWarriors: Reader and Myth Engine, Permaculture, Nature, Transition and the New Mythology. Interviews, Articles, New Myths and Messages from a Mythic Journey." by Willi Paul and Planetshifter.com (iBook & PDF)
Submitted by Willi Paul on Sun, 07/10/2016 - 10:48
Axis:Image: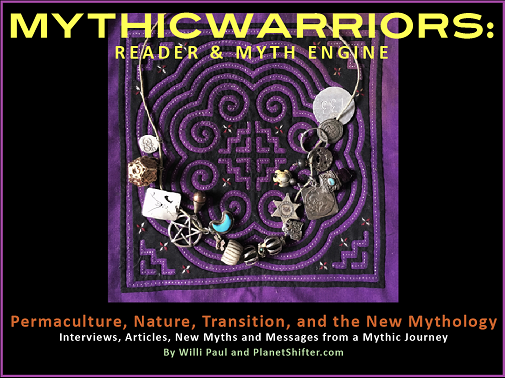 p r e s s r e l e a s e
New Book: "MythicWarriors: Reader and Myth Engine, Permaculture, Nature, Transition and the New Mythology. Interviews, Articles, New Myths and Messages from a Mythic Journey." by Willi Paul and Planetshifter.com (iBook & PDF)
Take a Journey with us.
* * * * * * *
Purchase:
iBook: iBook Store - 9.99
PDF - send 9.99 via PayPal to willipaul1@gmail.com; book delivered via email
"Back in 2010 or so, a "poet / sustainability consultant" launched an artist's community called Planetshifter.com, storytelling then became more popular and "shazam!" a new mythological journey erupted. New Mythology is a hybrid spirituality engine that combines Nature, Transition Movement, and Permaculture. It is an amazing opportunity to work locally and globally each and every day." (Source)
About MythicWarriors: Reader and Myth Engine
The Reader is a place to learn, get tools, to formulate questions, and craft creations and is organized by 17 Key Concepts and Chapters. Each Chapter includes an interview, article and messages from my mythic journey: Nature, Ritual, Permaculture, Transition Movement, Community Design, Alchemy, Symbols, Resilience, Archetypes, ReWilding, Sharing, Rock Music, Sound, Spirituality, Tradition, Sacred, and Sacrifice.
The Myth Engine is a process to create new stories, songs and art. This collaboration is the spiritual center, helping to redefine ritual, tradition and the sacred while raising our collective consciousness.
About Willi – Long-time Joseph Campbell Foundation Associate and New Mythologist, Willi Paul is a pioneer and vision integrator for Permaculture, Nature, Transition and the New Mythology. He has designed and facilitated multiple roundtables since 2014 including the recent Writers and Artists Online Roundtable: Visions 2040. Mr. Paul produced three regional Mythic Roundtables in Santa Barbara, Bay Area/Peninsula and Davis. He has presented three times at the Northwest Permaculture Convergence. His 375 leader Interviews and 81 New Myths can be read at Planetshifter.com.
Please Download the MythicWarriors Press Release (PDF) at bottom of post
Willi Paul
New Mythologist & Transition Entrepreneur
PlanetShifter.com | Academia.edu Portfolio
@planetshifter @openmythsource @PermacultureXch
willipaul1@gmail.com