"The Northwest Permaculture Convergence is Alive!" Fort Flagler, WA, OCT. 7-9. Pre-Event Overview and Selected Workshops. PR by Planetshifter.com
Submitted by Willi Paul on Fri, 08/19/2016 - 20:36
Axis:Image: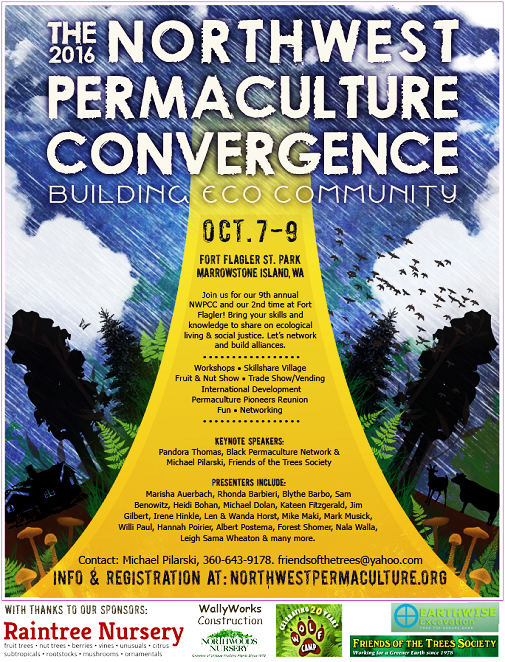 "The Northwest Permaculture Convergence is Alive!" Fort Flagler, WA, OCT. 7-9. Pre-Event Overview and Selected Workshops. PR by Planetshifter.com
Event Snap Shot -
The Northwest Permaculture Convergence
OCT. 7-9
Fort Flagler St. Park
Marrowstone Island, WA
Featuring -
Workshops + Skillshare Village Fruit & Nut Show + Trade Show/Vending International Development + Permaculture Pioneers Reunion Fun + Networking
The Northwest Permaculture Convergence (NWPCC) is an inclusive annual weekend-long event that alternates between Oregon and Washington State. The Convergence brings together a remarkable diversity of people, all with creative approaches for designing living environments, and economic and culture systems that thrive within ecologically sustainable limits. Everyone who practices the ideals of Permaculture speaks a common language across the Northwest and all over the world.
NWPCC teams-up with local communities for 'Shoulder Events,' supporting our allies with tours, panel discussions, workshops, and classes. Every year, the organization offers a number of volunteer and work trade positions. Ride shares, home stays and food donations can be arranged using the website.
Long time enthusiasts and beginners alike pilgrimage from every corner of the Cascadian Bioregion which extends from coastal Alaskan Panhandle to the north, into Northern California in the south, and inland to include parts of the Yukon, Idaho, Wyoming and Western Montana.
* * * * * * *
NWPCC - Selected Workshops -
Willi Paul
Workshop: "Tearing Down the Silos - Integrating Permaculture, Transition, SpiritNature and Mythology"
This interactive workshop will consider key intersections and opportunities when combining often separate movements into one unified, community-based vision. This workshop will utilize ideas from Willi's new book: "MythicWarriors: Reader and Myth Engine, Permaculture, Nature, Transition and the New Mythology. Interviews, Articles, New Myths and Messages from a Mythic Journey" (iBook & PDF).
Charlotte Anthony
Workshop: Terra Lingua farm to demonstrate that industrial agriculture is obsolete
The presentation will be about what we are doing on the farm. We will share what is working and what is not working.
1) microbial inoculations.
2) hedgerows
3) cover cropping with chop and drop for mulch beds every 30 feet.
4) contour plowing with a chisel plow to hold moisture.
5) planting of trees including fruit, nut, forest trees, berry bushes, vines, herbs, perennial vegetables, self-seeding annual vegetables as well as grains, legumes and oil seeds.
6) plantings are mostly from seed because of the lack of water to water in transplants.
Brian Kerkvliet
Workshop: Scythes the Cutting Edge
Sell the weed eater and use a scythe! Maintain your body, not your machines. Learn the sharper points of this elegant tool. Thought to be old school, but better blades and an ergonomic set makes them one of the most efficient tools out there. Learn what makes a good scythe, how to select a scythe for your needs and how to properly maintain it for years of efficient use.