"In Cahoots with the People" - Interview with activist Trathen Heckman in support of his TeleSeminar with Transition US (10/12/16). PR by Willi Paul, Planetshifter.com
Submitted by Willi Paul on Thu, 10/06/2016 - 15:33
Axis:Image: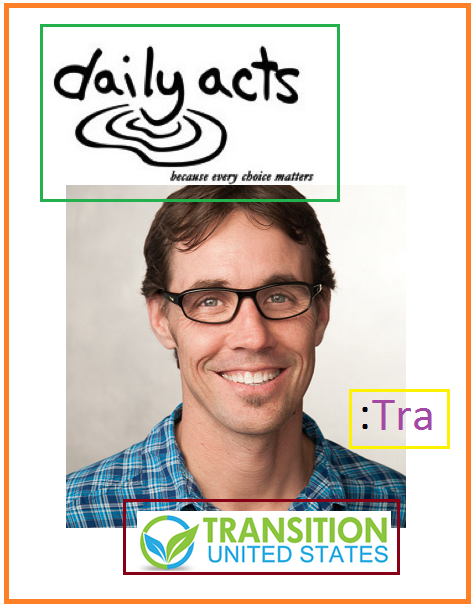 "In Cahoots with the People" - Interview with activist Trathen Heckman in support of his TeleSeminar with Transition US (10/12/16). PR by Willi Paul, Planetshifter.com
Event Title: "Increase your inspiration, participation, impact and funding while having more fun"
Date: Wednesday, October 12, 2016 - 11:00am - 12:15pm (PST)
Register: Please register online and you will receive call info via email.
* * * * * * *
Please join us for the first event in our series on "Replicable Models for Community Impact!"
Faced with a confluence of crises, how can we truly unleash the power of community to create more just, resilient and thriving people and places? What practices and tools can we employ to inspire volunteers, create effective partnerships and mobilize the physical, financial and emotional resources to transform lives, neighborhoods and communities?
Join us for this TeleSeminar with visionary and award-winning activist Trathen Heckman as he relays tips, tools and models for how we can live our inspiration while growing high impact and financially sustainable groups and networks. Whether you want to build a robust community service organization or simply borrow tools to increase your effectiveness as a volunteer initiative, this event will hold something of value for you.
* * * * * * *
Interview with Tra by Willi -
Please define resilience per the following contexts:
Daily Acts
Your Family
Local Government
Mother Earth
As David Orr has written, resilience is a chief characteristic of sustainability, "which means the capacity of the system to absorb disturbance; to undergo change and still retain essentially the same function, structure, and feedbacks…. In practical terms, resilience is a design strategy that aims to reduce vulnerabilities."
I think this is a great starting place. Though from the grassroots to national dialogue in the health sector, resilience has become more than just springing back from adversity and the next disaster or a strategy to reduce vulnerabilities. Entering an era of complex crises ranging from drought and resource depletion to climate change, extreme weather and systemic inequity, we don't want to return to the unconscious, eco-illiterate ways of doing and being that got us here. We need to spring forward into a healthier, just, resilient and beauteous future.
Rather than try to define what resilience is in each of the contexts, I'll just give a few examples of each.
Like they say on the plane at take off, "Put your own oxygen mask on first before assisting others." To do this I have squarely rooted in the belief that change starts with me. I have a wide range of self-care practices from health and exercise to meditation, journaling, nature connection and on. This helps me bring my best each day. At the family level we have food in the ground and pantry, rainwater, greywater, bees, chickens and such to reduce our resource use, save money and grow healthy food and a healthy environment. Since the neighborhood has a big impact on self and family, we have made efforts to strengthen our relationships with our neighbors and to support them to similarly increase their resilience and quality of life.
For Daily Acts, at the core of our work is helping our team and community to "Be the Change" by modeling self-care; sustainable living solutions; and community connection and engagement. This builds resilience in our team, our organization and our community. There's a whole bunch of ways we build resilience through our programs.
For our local government, we actively partner with them to create home, neighborhood and community models of sustainability while growing more skilled, connected and empowered residents. We work with cities to create the policies and programs that support this, like with promoting greywater systems and public edible landscapes that conserve resources, build soil and support local businesses. Through our Community Resilience Challenge program, a wide cross sector of people and organizations take action to do activities that conserve resources and grow more food and community connection.
Lastly we are involved in several networks and alliances that are working to connect the dots between work on food, climate, health and equity. Taking a more collaborative, integrated approach that engages a diversity of community members is hugely important to building resilience at the scale of local government.
As for the earth, it's just doing our best to follow nature's operating instructions and how indigenous cultures have lived well in place before now. We just need to apply the eco-literacy and eco-design lessons that come from nature to all aspects of our lives and communities.
Perhaps you have heard of mythologists speaking about "bliss?" Where do you ask us to find sources of inspiration?
For me it's about the call to action to live your inspiration, which is the same as to say, "Follow your bliss". It's a very personal thing to find that, which sets your heart afire and connects you to something larger than yourself. That said, given the times we live in, I think it's an ethical and moral imperative for us all to find and live our inspiration within the context of reconnecting to and regenerating nature and community.
While it's an individual thing I think there are some common sources that many folks find inspiration in. For me nature connection is a big one, be it hiking in the high sierras, meditating in my backyard or picking tea and geeking out on the flourishing fluctuation of seasonal wonderment in our neighborhood food forest. Another is spending time with family and friends, especially when in the garden, over meals or doing some homegrown activity like pressing apple juice, spinning honey, making mead or whatever.
A third big one is being in cahoots with people who are living their inspiration in service to this big planetary moment and rebuilding the richness and resilience in our homes, gardens, towns and movements. Then there's writing, music, snowboarding (though haven't done that much in a long time) and the list goes on.
I would ask folks not to just find their sources of inspiration, but to get really clear and keyed in on those sources and to pack your life with them. Create conditions conducive to constantly rub about against the people, places and activities that make each of your cells scream in unison, hell yes!
Lastly, I'll say that while I did quite my job multiple times to follow my bliss, sometimes it can just be a change in attitude or intent. Whatever your situation, own your power to choose your response and your attitude and focus your attention on what you can influence or control. From here it's easier to let our inspiration flow into and through us.
Oh yah - that "confluence of crises" thing! Please tell about your top five local to global issues and how you are striving to solve them?
It can be easy to get overwhelmed and immobilized by the diversity and scale of issues we face, from the climate crisis to systemic racism and inequity, resource depletion, deforestation, loss of indigenous cultures of place and so much more. For me, there is one main issue that I'm working on that spans from self to local to global and that is the issue of disconnection. As people and a human culture, we have become disconnected from self, nature and community. For many, we are unconsciously acting from a paradigm of disconnected consumers living on a disposable planet, which leads to the values and actions that perpetuate a destructive, extractive culture and economy.
A cornerstone of a healthier, just and resilient communities is people who are taking action to live sustainably, to support neighbors and friends to do the same and to be civically engaged in our schools, churches, local government and broader movements. The solution starts with each of us, aiming to live our inspiration in a way that reconnects to and regenerates nature and community. Once we reclaim the power of our own actions we can transform our lives, our homes and gardens and then positively influence and support others. From here we can get engaged with local organizations working on these issues. This is what Daily Acts Organization does and many Transition Town and related groups.
So I focus on modeling or being the change I wish to see in myself, at home and in our neighborhood. From here through my work at Daily Acts, we seek to spread these sustainability and resilience solutions and models in our local communities by partnering with a range of schools, churches, business, agencies and organizations. A second piece of our work is spreading successful models and helping grow and strengthen the movement of grassroots organizations working on sustainability issues.
We do this through programs like the Community Resilience Challenge. We do it by working with the Norcal Community Resilience Network regionally, the California Urban Water Conservation Council at the state level and nationally and internationally through the Transition Towns movement via our work with and support of Transition U.S.
But again it all comes back to addressing our crisis of connection, of tapping into what it means to be alive in this big planetary moment, to find our part and link arms with others who are doing the same.
How is Daily Acts doing financially? 1. How are you and 2. your group making ends meet?
That's a great question. We are in a part of the year where we raise a significant portion of our budget, which determines how much capacity we have to do all of this incredible work at the range of scales mentioned. So if you are inspired, please donate at www.dailyacts.org, and www.transitionus.org.
As for Daily Acts it varies a bit each year, but about 1/3 of our budget comes from individual donations, with a large part of this coming through our Ripple the World Fundraising Breakfast on October 27th, a hugely inspiring gathering of 600 engaged people and leaders. Another 1/3 comes from our work with government agencies on water conservation, storm water education and related programs. Then the rest is mostly grants, programs and business sponsorships.
What are your thoughts on changing capitalism's rampaging materialism and the failed religious programming in this world?
As Gandhi and others have modeled so well, I think it starts with each of us reclaiming our paradigm and the power of our daily actions, to be the change we wish to see. From here we can best positively influence others and we can support organizations and movements that further grow and leverage our power.
Rather than be frustrated or overwhelmed by all that is wrong in the world, I think it's more fun and effective to turn our most impossible dreams for how we wish the world to be into our new baseline. When I walk out the door I see food, medicine, beauty and habitat everywhere. Greywater and rainwater-fed gardens are the new norm, as are bees and chickens, even public art. Two weeks ago, we partnered with the St. Vincent High School Art Angels who painted a beautiful mural across the street at the edge of our public food forest. It has phrases painted on it that remind us to "Be the Change We Wish to See in the World, to Be Kind, Be Inspired, Be Resilient and to Love".
Let's see, grow more food, medicine, beauty and friends, while significantly reducing resource use and radically increasing the richness and resilience of our lives, our neighborhoods and our communities. Partner with an inspiring array of organizations and agencies to empower and support others to do this in their place and then share such models through our networks to strengthen our movements. That just sounds downright fun and inspiring to me. Not sure we'll solve the gargantuan scale of problems we face, but I can't think of a better way to take heart and take action.
* * * * * * *
Bios -
Trathen is the founder and Executive Director of Daily Acts Organization and Board Chair of Transition U.S. He serves on the board of the California Urban Water Conservation Council and on the Advisory Board for the NorCal Community Resilience Network. Trathen has spent the last 15 years helping to launch and grow a variety of community benefit organizations, alliances and networks. He lives in the Petaluma River Watershed with his wife, daughter, chickens and bees, where they seek to grow food, medicine and wonder while composting apathy and lack.
Willi is a New Mythologist & Transition Entrepreneur with a global reach called Planetshifter.com!