"el ángel del bosque de la comida llama" ("the food forest angel calls") – A SoundCollage for Kids. Includes Construction Notes and Instructional Video. By Willi Paul, Mythologist, Planetshifter.com
Submitted by Willi Paul on Thu, 12/29/2016 - 14:15
Axis:Image: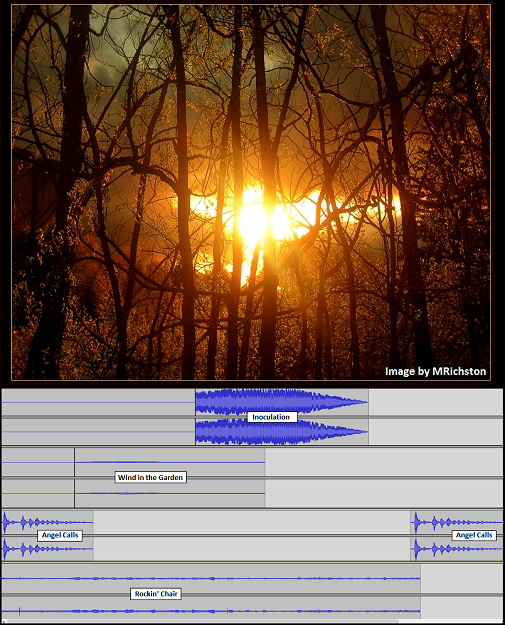 "el ángel del bosque de la comida llama" ("the food forest angel calls") – A SoundCollage for Kids. Includes Construction Notes and Instructional Video. By Willi Paul, Mythologist, Planetshifter.com
* * * * * * *
"el ángel del bosque de la comida llama"
Version 1: Listen to the audio file
Version 2: Watch the YouTube video
A modern incantation is a charm or spell created using sound. An incantation may take place during a ritual, either a hymn or prayer, and may invoke or praise a deity.
* * * * * * *
- Construction Notes -
The ideas for this SoundCollage were originally sound fragments or samples, based upon key word searches in the Freesound.org database. Only later, fueled by the draft title, and a "trial by fire" score (see illustration), did the sound symbols reveal words – and ultimately a short song.
[ i. ] An idea sparks, some resonance or purpose is visualized and / or heard
[ ii. ] A title is crafted and utilized as exploratory scaffolding
[ iii. ] Write with sound, layering meaning
[ iv. ] Imaging the sound as an image
[ v. ] Assigning segment titles:
Angel Calls
Ángel llama
Wind in the Garden
Viento en el jardín
Rockin' Chair
la mecedora
Inoculation
la vacunación
Angel Calls
Ángel llama
[ vi. ] Editing segments then entire piece:
Shortening segments, repeating segments, adding silence, volume up or down
[ vii. ] Color backgrounds for video:
Black, Grey, Lime Green, White
- List of Software –
+ Text Editor
+ HTML
+ WORD
+ Audacity
+ Screen Capture
+ Paint
+ Movie Maker
- FreeSounds.org Credits -
nnus_guitar_distortion_feedback1.wav
nnus
Storm Wind 3.aiff
gnrja
Robot Chant Loop.wav
Schulze
Wind Through Trees 3b
spoonbender
- Related Planteshifter.com Posts by Willi Paul-
"textsongs - soundscapes for kids" - eBook #15
"sounds symbols myths" - Interview with 4 New Composers plus 6 Sound Myths (SCORE). eBook #17
Sounds, Samples and Songs: Tuning New Mythology with Permaculture, Transition and Nature. eBook 29