"Trump the Anti-Christ" - Foreshadow by Willi Paul, Mythologist, Planetshifter.com
Submitted by Willi Paul on Tue, 01/24/2017 - 16:49
Axis:Image: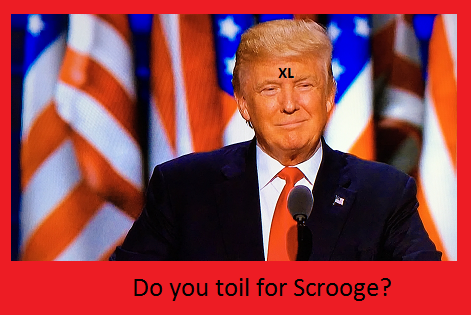 "Trump the Anti-Christ" - Foreshadow by Willi Paul, Mythologist, Planetshifter.com
'Do not underestimate the appeal of Trump's nostalgic vision. His call for America to "start winning again," his denunciation of the "crime and gangs and drugs" of the present, these are so powerful that he has triumphed despite his dishonesty, his vulgarity, his addiction to social media, his lack of religious faith, his many wives, all of the elements of his character and personal history that seemed to disqualify him.'
* * * * * * *
Ask 10 folklorists to depict Trump as the Anti-Christ and you will get 10 different tales. But clearly, it is us, together, who will write the myth of Trump. Are you one of the three little pigs? Do you toil for Scrooge? Better re-build that teepee with bricks, sister, the wolf is coming.
This is the demonic being from Biblical scriptures that is said to be 18ft 3 inches tall and will come on the day of judgement to bring terror to people. He is the enemy of God and Christ.
Surrounded by the magical food forest, the smart Permaculturist and Campbellian should see Trump as only a low thorny hedge in the multi-year "battle journey" underway, compost forks splayed to puncture the daily spicer of foreign-born horrors and crude oil company gifts that want to twist our moral compass sideways, … but are we ready for the flood waters, to head the community's Hero call? Will we rise together against the tyrant boy?
It is us that welds the Light Swords to safe guard the agenda - we are the "re-born agains", again.
We can slay the dragon.
* * * * * * *
'Jesus, whom Christians believe to be the Jewish Messiah (the Christ), will appear in his Second Coming to Earth to face the Antichrist, who will be regarded as the greatest false messiah in Christianity. Just as Christ is the savior and the ideal model for humanity, his opponent will be a single figure of concentrated evil, according to many.'
Mythologically, beware how Trump's many symbols fuel his message. What do The US Flag, the pending Wall against Mexico, Trump's Tower, Scrooge, and the Gambling Casino mean to his cronies and to you?
Trump's archetypes are our archetypes…. podiumed by fear and division, that we will go backwards. That we have no power against the evil, unjust and all-powerful; that we will only sit alone and wait for the beast to kill us.
Beware and Resist the false majority, the fake initiations; the silent capitalist hoarders. Refuse to cower to the Wall Street Devil Wolf in Brooks Brothers Clothing.
He is naked.