"Sustainable Lifeways for an Uncertain Future" - Interview with NikiAnne Feinberg, Director and Co-Founder of the School of Integrated Living (SOIL) at Earthaven Ecovillage, Black Mountain, NC. By Willi Paul Studio / Planetshifter.com
Submitted by Willi Paul on Wed, 03/08/2017 - 09:48
Axis:Image: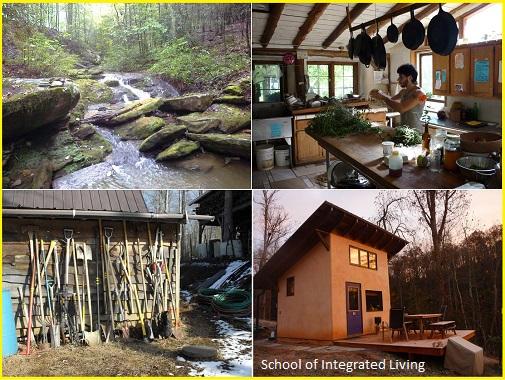 "Sustainable Lifeways for an Uncertain Future" – Interview with NikiAnne Feinberg, Director and Co-Founder of the School of Integrated Living (SOIL) at Earthaven Ecovillage, Black Mountain, NC. By Willi Paul Studio / Planetshifter.com
About SOIL
School of Integrated Living (SOIL) inspires people to live responsible and creative lives by providing experiential education in integrated living and regenerative systems. Its programs educate empowered, skilled, and conscious leaders dedicated to creating radical change and healthy reciprocal relationships.
SOIL was founded in 2013 by NikiAnne Feinberg and Lee Walker Warren, two experiential education leaders and residents of Earthaven Ecovillage near Asheville, NC. Feinberg and Warren wanted to provide opportunities for the wider world to learn from their home at Earthaven, a 23-year-old off-grid community working to develop a sustainable human culture in the foothills of the Appalachian Mountains. SOIL's strong partnership with Earthaven affords students real-life applications of sustainability skills by grounding its curriculum in the integrated life of the ecovillage—an ideal experimental classroom.
Since its conception, SOIL has educated over 500 students in classes ranging from weekend workshops to summer residential immersions. In addition to offering its own programs, the school has partnered with the College of Charleston, Coastal Carolina University, and Furman University to complement their traditional academic coursework. Work by SOIL instructors has been featured in the Washington Post Magazine, Permaculture, and Home Power.
SOIL was recently certified by Gaia Education as one of only two US organizations providing the Ecovillage Design Education credential, a part of the UNESCO Global Action Programme on Education for Sustainable Development. The school also offers a Permaculture Design Certification course and instruction in natural building. Beginning in fall 2017, SOIL will offer the Wild Leaders Immersion, a unique weekly program that builds leadership skills through nature connection.
* * * * * * *
Interview with NikiAnne by Willi
You "build cultural health and resilience by helping people discover their gifts and match them to community needs." Can you elaborate on what you mean by cultural health and offer some examples of how you help people discover their gifts?
I believe our modern world is suffering from disconnection disorder. We are disconnected from the sources of our lives (our food, electricity, building materials, water, etc.), the impact of our choices, our emotions, our bodies, our relationships, and ultimately ourselves and our inherent unique gifts. A healthy culture is connected—to ourselves, each other, and the natural world.
My work is devoted to increasing authentic connection in the world.
Everyone comes into this world with a unique gift to offer. I strive to help people get in touch with their authentic selves, articulate life visions, and design lives founded on those visions. One of my greatest joys is looking into the eyes of someone who is on fire for life and has found a deep sense of rootedness in themselves, their community, and nature.
Do you see the community as the Hero more than the individual these days?
A healthy community is like a forest ecosystem: at any given moment, it contains individual trees and plants that are at different stages of succession. Likewise, the Hero or Heroine's Journey involves a sequence of transformative experiences, and a community includes individuals at different stages of that journey of initiation. Community itself is not the Hero or Heroine, but instead the ecosystem that contains different initiation journeys.
What kinds of new traditions and rituals are brewing at the School of Integrated Living? Are pagan and transition movement components involved in this process?
We think about culture and tradition like seeds: they carry the library of all the lineages they come from, but they also adapt in every generation to new conditions and needs. We carry on different traditions, ceremonies, and rituals that we've learned from our mentors and elders, as well as innovating our own layers on top of them.
In the traditional Roman sense of "rural", SOIL does include some pagan elements. As a rural community, we practice land-based and agricultural rituals that draw from the ecology of our surroundings. Some of our elders and teachers have also given us rituals that are pagan in the sense used by the New Age community. Our practices include rituals from the Druidic and Goddess lineages, as well as rituals from the Dagara people learned through Sobonfu Somé, Mayan rituals learned through Martin Prechtel, and Lakota and other native American traditions shared by various elders and teachers.
Another strong lineage represented at Earthaven (and thus SOIL) is the Wise Woman tradition, which teaches us to deeply inhabit our bodies, feel our emotions, and nourish ourselves and each other. All of these traditions share a connection to the earth-based practices of our ancestors, who knew how to align themselves with the whole world.
All of these lineages are preindustrial and non–Judeo-Christian. However, they are carried in a spiritual ecology cooperative with Judeo-Christian beliefs and practice. We are consciously moving towards a spiritual polyculture that includes and interconnects with all spiritual lineages, as long as their practitioners are willing to work together. One of our founding goals of Earthaven is to encourage an atmosphere in which diverse spiritual practices can thrive.
Earthaven is not explicitly based in the Transition Town movement as set forth by Rob Hopkins. However, it emerges from the same early stages of permaculture and solution-based thinking.
To me, Nature is both a place and a feeling. A hike and a blog, so to speak. When I say SpiritNature, what you think of?
It sounds like "SpiritNature" is your word for the living mystery that others might call Gaia or life-force. In our modern world, we can become disconnected from our own essence and the essence of the living world around us. Most indigenous and traditional peoples believe that everything is alive. We have to be reminded of that through sacredness, and often nature provides that sacred connection.
"School of Integrated Living (SOIL) inspires people to live responsible and creative lives by providing experiential education in integrated living and regenerative systems. Its programs educate empowered, skilled, and conscious leaders dedicated to creating radical change and healthy reciprocal relationships."
Are you finding jobs for your graduates?
SOIL has a strong professional partnership network that offers graduates access to local and global opportunities, as well as continued growth, support, inspiration, learning, and economic vitality.
However, SOIL's programs are not intended as vocational training programs. Instead, we help participants gain skills and exposure to sustainable lifeways, which helps them identify appropriate career paths for themselves. We aspire to connect participants with the next steps in their lives towards permaculture or related vocations, which can include additional education, mentorship, reading, and research.
Is SOIL's mission about survivalism?
Surviving in the presence of extreme climate change, economic collapse, and political turmoil is certainly one of the threads that we pursue, but we don't consider ourselves as "survivalists." We have a positive vision for a sustainable human future, and we actively seek the strategies and scales of action necessary to grow that desirable future. However, we are realistic about the risks and challenges we are likely to face in the future, and we embrace creative solutions and lifestyle choices for survival in the face of these challenges.
Are there folks that do not support your mission?
When SOIL first began we had people who wanted to see our mission in action and were holding back to see if we were serious and could be effective. Now that we've served over 500 students in 4 years and have a great track record for quality education, those initially skeptical folks are now some of our biggest supporters.
Please share some stories concerning "radical changes."
Etymologically speaking, "radical" means root. From that truest meaning of radical, we believe our programs help people source their lives from a rooted place.
Going back to the Heroine's Journey, the definition of radical change depends on the difference between where someone is now compared to where they came from. I've had the privilege to bear witness to many people stepping into their power and taking responsibility for their lives, their choices, and inevitably the larger world around them. The space, safety, support, and mentorship we offer allows the people to emerge into their most creative and expansive selves.
To share people's individual stories out of context and relationship wouldn't do them justice. It's very difficult to define what radical change looks like in someone's life if you're not that person. What is radical to one person may not be to another. We do follow up with our participants to help them keep implementing the lessons, tools, and practices gained over their learning experience in their ongoing lives.
Does this mean that you are, in general, preparing your community for an alternative future without the electric company and other traditional utilities? What are the ramifications of this strategy in your mind?
We are preparing ourselves for a different type of future; one that might not have the luxury of relying on cheap oil as we do today. The ways that future might play out are quite complex and not totally controlled by our choices. We do have choices though; we make them every day. Earthaven Ecovillage has chosen to source its electricity from the sun and water as a means to take responsibility for the power it uses. To learn more about its newest solar technology- a solar powered micro-grid, check out Home Power Magazine.
What the future looks like is partly depends on the choices of individuals, communities, and governments, as well as the way in which technologies develop. At Earthaven, we are certainly trying to provide a baseline of electricity for the things that electricity is uniquely suited for. One of our dreams is to be a small-scale, bio-regional model of alternative energy systems to empower bio-regions and communities nation-wide to become energy independent.
One of the elements in my New Myths is re-Wilding. This is about old tools and new spirit and adventure in Nature, right?
To me, it's about giving thanks to the various traditions, and elders who shared knowledge so that we could be here today. It's about consciously stewarding and applying the embedded wisdom of the seeds we carry appropriately into our modern world.
The word "old" in our society implies outdated or defunct. Instead, we'd call these approaches "living tools" or "traditional tools".
At SOIL and Earthaven, we strive to connect with and hold nature from an indigenous mindset. To us, "indigenous" means people who are from a place, who think of nature as their home. As humans, we are a part of nature—albeit a very unique one—and we are truly a part of natural ecosystems. Although being in nature can be fun and pleasurable, we also think of nature as a teacher. Nature is our home. Nature is where we go to when we die. Nature is our food, friend, and predator all at once. That's the relationship with nature that we are coming from.
* * * * * * * *
Bio - NikiAnne Feinberg
NikiAnne builds cultural health and resilience by helping people discover their gifts and match them to community needs. She sees School of Integrated Living as one node in a web that connects us to ourselves, each other, nature, and the resources we need for village building.
In addition to being the director and co-founder of the School of Integrated Living, she is also a Nature-Awareness facilitator, outdoor educator, project manager, community leader, and village builder. She builds cultural health and resilience by helping people discover their gifts and match them to community needs. NikiAnne coordinates, facilitates and leads educational experiences emphasizing service learning, nature connection, and building community for groups of all ages in the U.S. and abroad.
Her focus on regenerative living includes her work as Community Service Coordinator at Earthaven Ecovillage, a residential village in the Southern Appalachian mountains of Western NC, an advisory board member for the Quail Springs True Nature Society, and a group and individual consultant in conscious leadership and holistic management. As a consultant, she combines compassionate witnessing and deep curiosity with strategic thinking to help clients leap into new stories of self and service, and embrace transition, whether inevitable or invited. NikiAnne holds a BA in International Affairs from George Washington University.
Bio - Willi Paul
As Principal of Willi Paul Studio, Mr. Paul partners with companies and individuals to provide custom contract media services including articles, interviews, edu-videos, mythic roundtables and eWorkshops. Willi Paul is a globally-connected writer and activist in the Sustainability, Permaculture, Transition, SpiritNature, and New Mythology sectors. Planetshifter.com is an online community magazine, a diverse database and an outreach network that launched on Earth Day 2009. Planetshifter.com provides a wealth of information that includes 225 thought leader interviews with leading mythologists, permaculturists and artists, 2426 articles, 92 New Myths, 33 eBooks and 157 videos.
In 1996 Mr. Paul was instrumental in the design of the emerging online community space in his Master's Thesis: "The Electronic Charrette.." He was active in many small town design visits with the Minnesota Design Team. Willi earned his permaculture design certification in August 2011 at the Urban Permaculture Institute, SF.