"Shovel - Spade - Rake - Axe - Hoe"- An Introduction to "Perm-Tech" aka Permaculture Technology - Commentary and Study Questions by Willi Paul Studio / Planetshifter.com
Submitted by Willi Paul on Sat, 03/11/2017 - 11:31
Axis:Image: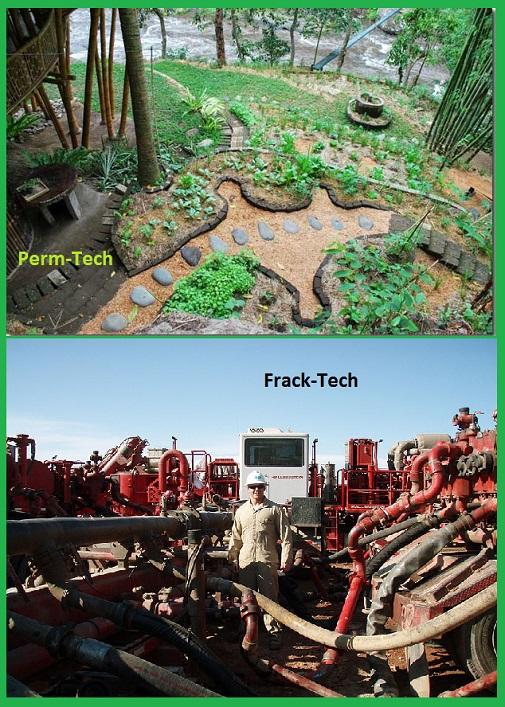 "Shovel - Spade - Rake - Axe - Hoe"- An Introduction to "Perm-Tech" aka Permaculture Technology - Commentary and Study Questions by Willi Paul Studio / Planetshifter.com
* * * * * * *
"Technology" (Wikipedia) -
Making, modification, usage, and knowledge of tools, machines, techniques, crafts, systems, and methods of organization
"Perm-Tech" (W. Paul 2017) -
David Holmgren refers to permaculture like 'Thinking Tech' in his work with Permaculture Principles or "Thinking tools for an era of change"
* * * * * * *
Close your eyes and consider the toxic and social impacts - and high financial costs of fracking. This nightmare in Nature is the opposite of permaculture, both in terms of technology and ethics. Permaculture is often thought of as a "hand's on" or "Perm-Tech" business that deploys small hand tools to renovate small acreages and distressed land and produce sustainable gardens and small food forests.
In contrast, Geoff Lawton, whose Australian Permaculture design firm often deploys large earth moving equipment on client sites. He makes no apologies. But he stated the following in our recent Planetshifter.com chat:
Willi: After the "swales and cob benches" are done, driven by low-tech design principles, permaculture comes down to love to me. How do you express love for the land and your clients?
Geoff Lawton: Appreciation of natural abundance in beautiful form.
Clearly, heart and scale are central parameters to Perm-Tech.
I have a shovel. You have a back-hoe. Are we digging Nature?
* * * * * * *
When I mention Perm-Tech, what ideas came to mind? Is gardening a technology? Seems like it could be according to the definition offered by Wikipedia (above).
Can you suggest 3 - 4 technologies that permaculture deploys? How about:
Compost, bio-char, swales and berms, A-frame for contours
* * * * * * *
Questions to Consider -
1. Consider the Green-Tech sector, with its global investors and financial machinery. Can permaculture compete with its investors, publicity and Wall Street backbone?
2. Is the lack of large scale technology holding back traditional investment in permaculture?
3. Is Perm-Tech and the DIY movement, at root, "Sharing Technologies?"
4. Can you name a few "Perm-Tech" start-ups?
5. Do see the current Perm-Tech tool kit as slowing the spread and efficiencies of permaculture?
6. How are resilience and Perm-Tech connected?
7. Do permaculturists take social responsibility for granted?