"Faith 2.0" - Lyrics, Teaching Resources and Questions from Willi Paul Studio / Planetshifter.com
Submitted by Willi Paul on Wed, 03/22/2017 - 15:04
Axis:Image: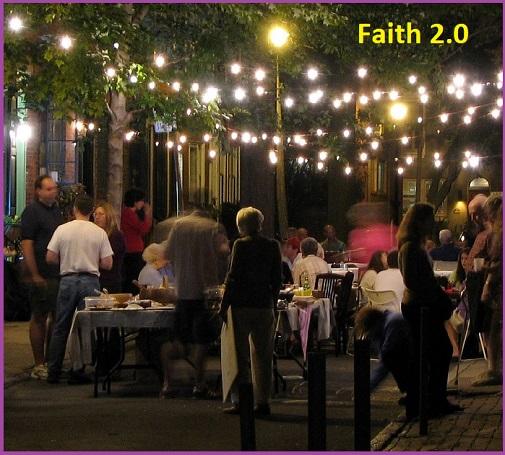 "Faith 2.0" - Lyrics, Teaching Resources and Questions from
Willi Paul Studio / Planetshifter.com
* * * * * * *
Faith 2.0
neighborhood scales sharpening resilience
we discredit and resist and protest
nothing "above" us in our community now
we're all down below
pray if you want
but this is Faith 2.0
lock arms with your neighbor
the shit is hitting the fan
it's our time now
don't waste it
We are Neighbor 2.0
permaculture without nature is just
technology and tech alone
will not save you
We are Food Forest 2.0
this is our last
catechism class peeps
we all have the same spirit
in this spirit desert
God Damn it
We are Faith 2.0!
- WOX
* * * * * * *
Teaching Resources -
1. Faith is confidence or trust in a person or thing; or the observance of an obligation from loyalty; or fidelity to a person, promise, engagement. The word faith is often used as a substitute for hope, trust or belief. (Source)
A catechism is a summary or exposition of doctrine and serves as a learning introduction to the Sacraments traditionally used in catechesis, or Christian religious teaching of children and adult converts. Catechisms are doctrinal manuals - often in the form of questions followed by answers to be memorized - a format that has been used in non-religious or secular contexts as well. (Source)
SpiritNature is a belief system where the Earth is held as a higher power, integrated as a protector, sacred and wild. A higher consciousness where humans are committed to saving Nature from human wrong doing. The opposite of greed, toxic technologies, resource exploitation and waste in general. (Source: W Paul)
Resilience is the capability of a strained body to recover its size and shape after deformation caused especially by compressive stress; and an ability to recover from or adjust easily to misfortune or change. (Source)
2. "Resistance and Resilience" - A Proposed Schema (Source)
( Individuals )
(a.) Learn + Discredit
+
( Group )
(b.) Teach + Strategize
=
(c.) Resistance -> Resilience
( Action + Evaluation )
3. To me, Nature is both a place and a feeling. A hike and a blog, so to speak. When I say SpiritNature, what you think of?
It sounds like "SpiritNature" is your word for the living mystery that others might call Gaia or life-force. In our modern world, we can become disconnected from our own essence and the essence of the living world around us. Most indigenous and traditional peoples believe that everything is alive. We have to be reminded of that through sacredness, and often nature provides that sacred connection.
"School of Integrated Living (SOIL) inspires people to live responsible and creative lives by providing experiential education in integrated living and regenerative systems. Its programs educate empowered, skilled, and conscious leaders dedicated to creating radical change and healthy reciprocal relationships." (Source)
4. "I started practicing Earth-based spirituality quite young, when I was about 11 or so I brought my first book on Witchcraft. It stirred something in me, and I realized that I had been practicing this instinctively anyway. Now that I am a Permaculturist, the two seem to go hand in hand. First of all, let me mention that Permaculture has no religious or spiritual connotation, it is a Design Science based on Systems Ecology. There are many ways to define Permaculture, and I do not think one definition is 'right'. Permaculture is many things, and has now been taken and adapted by many different cultures and people. My definition of Permaculture is 'Careful Research, Planning and Design of Social, Building or Landscape Systems which mimic Nature for Maximum Efficiency'.
Permaculture considers each element and its relationship to all other elements within that system, aiming to create a multi-functional, closed loop system. To me, Permaculture is common sense. So it may be a shock to some saying that Earth based spirituality and Permaculture are elements which combine fluidly in my life. Sometimes talking spirituality (and having dreadlocks) somehow means you are taken less seriously. I do not believe science and spirituality are mutually exclusive, and if Permaculture looks to many ancient cultures for its inspiration, we are truly missing the myth, story, culture and spirituality that often accompany these ways of life. We have lost our sense of ritual in many aspects. Now we have other rituals, whether it is our morning ritual of brushing our teeth or making our coffee... but these do not necessarily connect us to the land." (Source)
* * * * * * *
Do you have faith in your government?
Do you have faith in organic?
Do you have faith in the source of your garden seeds?
Do you have faith in your neighbors?
Do you have faith in innovation?
Do you have faith in your employer?
Do you have faith in Self?
Do you have faith in tomorrow?
* * * * * * *
How does one come to have "faith in Nature?"
Is designing (i.e. controlling) Nature our way to find faith in something?
Do you have faith that Monsanto and other plant DNA profiteers will change course?
Do you have faith in more capitalist solutions to our problems as you maintain a lack of faith in capitalism?
Do you have faith in the mob at the gate and the protestors running down the street tonight?
Many have put their faith in greed & corruption. Can we shield ourselves spiritually or psychically without Faith?
If Permaculture does not include a spiritual component, can you have faith in it?
What are the consequences of having no faith?