Planetshifter.com – Celebrating a Knowledge Base for Teens and Parents Since 2009 from Willi Paul Studio
Submitted by Willi Paul on Tue, 03/28/2017 - 13:57
Axis:Image: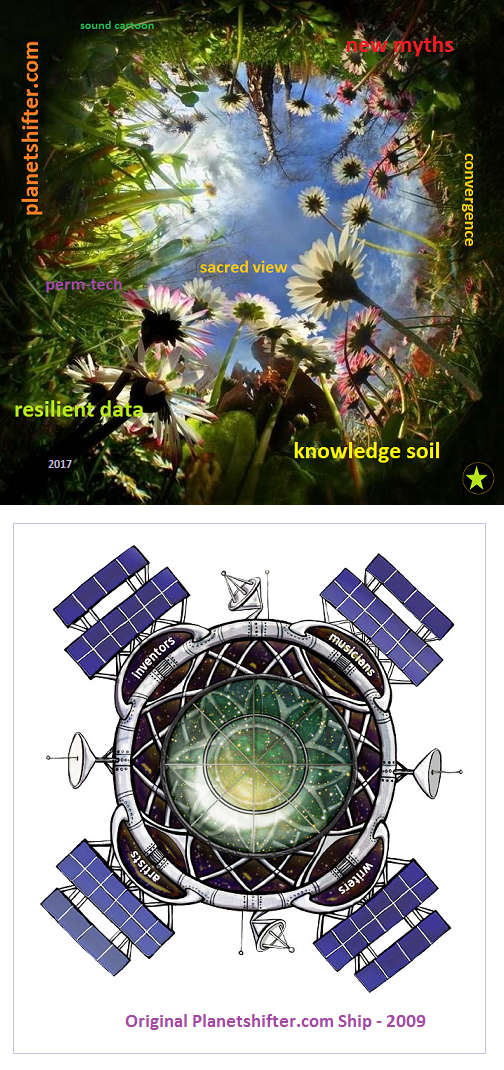 Planetshifter.com – Celebrating a Knowledge Base for Teens and Parents since 2009 from Willi Paul Studio
...... - Key Words from the Journey - ......
Grid Town | community | innovation | grey water | transition | solar | permaculture | rant | sustainability | climate | dreams | ecology | carbon | mythology | Joseph Campbell | alchemy | interview | religion | permaculture willi | sound | God | transition | new myths | shaman | SCORE | Mythic Mandate | Sacred | SYMBO | New Mythology | Carl Jung | occupy | video | Myth Lab | New Myth | Ritual | Sharing | Post-Chaos Era | poem | resilience | archetypes | convergence
- Introduction -
Willi Paul Studio / Planetshifter.com, a Socially Responsible Media Partner, celebrates a visionary knowledge base to create and integrate data concerning permaculture, transition, Nature, and sustainability to build a new mythology for the Chaos Age. This is a celebration and invitation for continued learning and partnership to share questions and solutions in our journey through new community initiations, traditions and heroes.
What types of data is in the Knowledge Base?
+ Symbols, Alchemy and Archetypes
+ Poems and lyrics
+ Interviews
+ eBooks – Condensations, Re-worked, summarized knowledge
+ Workshops – Active, interactive knowledge making, information gathering
+ Articles, reviews
+ New Myths
+ Videos (YT)
+ Myth Lab
+ iBook / PDF: "MythicWarriors: Reader and Myth Engine, Permaculture, Nature, Transition and the New Mythology. Interviews, Articles, New Myths and Messages from a Mythic Journey."
How do you search the Planetshifter.com Knowledge Base?
Type your key word(s) into the search box on the home page and then select content from the results.
- For example, using "Resilient Human", here are two results from the Knowledge Base -
[ I. ] A List of Desired Characteristics of the "Resilient Human":
1. Diversity in social and economic systems and inter-personal relationships
2. Thoughtful observation in Nature
3. Engaging the community in home-grown, citizen-led education and actions
4. Making and repairing useful things without the direct aid of experts or professionals
5. Partnering with the Earth as an integrated higher power; a protector; sacred and wild
6. Maintaining an obligation to act for the benefit of society at-large
7. Learning and practicing the ability to recover from misfortune or sudden change
[ II. ] Eight Foundation Concepts and Movements Selected to Help Define the "Resilient Human":
In ecology, sustainability is the property of biological systems to remain diverse and productive indefinitely. Long-lived and healthy wetlands and forests are examples of sustainable biological systems. In more general terms, sustainability is the endurance of systems and processes.
Permaculture is a philosophy of working with, rather than against nature; of protracted and thoughtful observation, rather than protracted and thoughtless labor; and of looking at plants and animals in all their functions, rather than treating any area as a single product system. Building community and sharing are key ethics.
Transition Town Initiative differentiate themselves from other sustainability and "environmental" groups by seeking to mitigate these converging global crises by engaging their communities in home-grown, citizen-led education, action, and multi-stakeholder planning to increase local self-reliance and resilience.
DIY, or "Do it yourself", is the method of building, modifying, or repairing things without the direct aid of experts or professionals. DIY behavior can be triggered by various motivations including identity enhancement (craftsmanship, empowerment, community seeking, and uniqueness).
SpiritNature is a belief system where the Earth is held as a higher power, integrated as a protector, sacred and wild. A higher consciousness where humans are committed to saving Nature from human wrong doing. The opposite of greed, toxic technologies, resource exploitation and waste in general. (W Paul)
Social Responsibility is an ethical framework and suggests that an entity, be it an organization or individual, has an obligation to act for the benefit of society at large. Social responsibility is a duty every individual has to perform so as to maintain a balance between the economy and the ecosystems.
Resilience is the capability of a strained body to recover its size and shape after deformation caused especially by compressive stress; and an ability to recover from or adjust easily to misfortune or change.
New Mythology - The old myths are burning out while new rituals, Nature-driven initiations and traditions, and archetypes emerge to reveal the pathways to a new global mythology.
* * * * * * *
Bio - As Principal of Willi Paul Studio, Willi partners with companies and individuals to provide custom contract media services including articles, interviews, edu-videos, roundtables and eWorkshops. He co-develops and expands each clients' creative vision and excels in delivering content in a captivating and authentic way. His target clients are Start-Ups, B-Corps, Incubators and Non-Profit Organizations. Planetshifter.com is an online community magazine, diverse database and outreach network that launched on Earth Day 2009. Planetshifter.com provides a deep database and wealth of information that includes 225 thought leader interviews with leading mythologists, permaculturists and artists, 2420 articles, 92 New Myths, 33 eBooks and 157 videos. As a globally-connected writer and activist in the Sustainability, Permaculture, Transition, SpiritNature, and New Mythology sectors, Mr. Paul is an accomplished community builder and integrator and a leader in new global mythology. Please find him on Facebook, LinkedIn and DPA.com.