"Up a Tree!" Willi Paul Studio / Planetshifter.com is now a Content Provider to Permaculture Magazine, North America and Mother Earth News. March 2017
Submitted by Willi Paul on Tue, 03/28/2017 - 16:05
Axis:Image: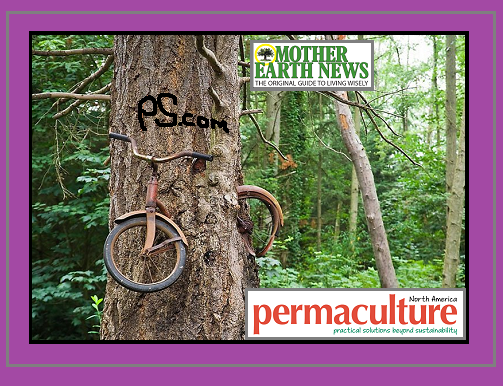 "Up a Tree!" Willi Paul Studio / Planetshifter.com is now a Content Provider to Permaculture Magazine, North America and Mother Earth News. March 2017
I am pleased to announce two new guest writer opportunities in support of the movement. Thank you to Cassie Langstraat and Hannah Apricot at Permaculture Magazine, North America and Kale Roberts at Mother Earth News.
Permaculture Magazine, North America
First Contribution: The Pacific NW Fire Ceremony – Kindling New Stories
- Excerpt -
From: Interview with the Spirit - The Fire Ceremony sounds like a Native American tradition?
Yes. Tom Brown Jr. was taught, with his friend, in the woods of NJ by an Apache Elder named Grandfather Stalking Wolf. Tom Brown Jr. has written books about his learning to be in nature, the lessons were not easy or kind, but they were enriching in ways we civilized folks can scarcely imagine. He also runs a nature school you can learn more of at Tom Brown Jr's Tracker School
* * * * *
Mother Earth News
First Contribution: Interview with NikiAnne Feinberg, Director of the School of Integrated Living
- Excerpt -
My work is devoted to increasing authentic connection in the world. Everyone comes into this world with a unique gift to offer. I strive to help people get in touch with their authentic selves, articulate life visions, and design lives founded on those visions. One of my greatest joys is looking into the eyes of someone who is on fire for life and has found a deep sense of rootedness in themselves, their community, and nature.
- WOX -