Relentless Resistant Resilient: Exploring Sustainability in Technology & Nature - Children's Edu-Video + Questions. New Myth #95. By Willi Paul Studio / Planetshifter.com
Submitted by Willi Paul on Wed, 04/12/2017 - 09:12
Axis:Image: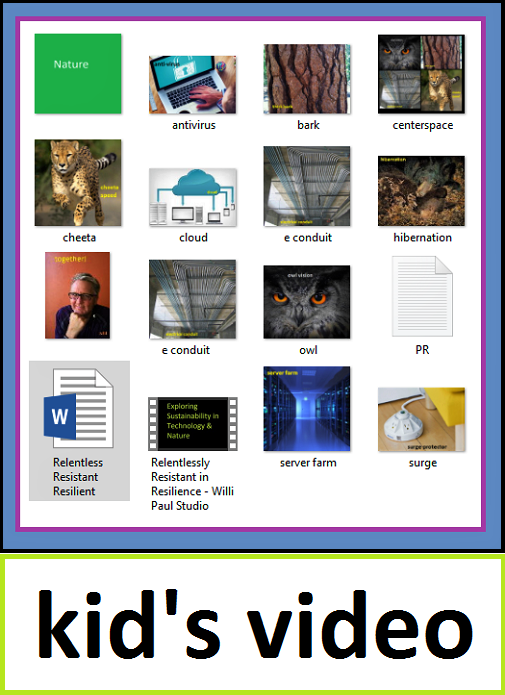 "Relentless Resistant Resilient: Exploring Sustainability in Technology & Nature" - Children's Edu-Video + Questions. New Myth #95. By Willi Paul Studio / Planetshifter.com
Hey Folks - The video is right here!!
* * * * * * *
You are Relentless!
not quitting; maintaining the course
You are Resistant!
pushing back under pressure
We are Resilient!
your family responds to changes together and recovers quickly
* * * * * * *
Technology Sounds -
Server Farm
BerberFarmyard2.wav
acclivity
Electrical Conduit Electricity
deleted_user_7146007
Cloud Data Storage
Wind in a tree in the Mojave Desert (California, USA)
felix.blume
Anti-Virus Protection
boxing with bag
alebrujo
Surge Protector
Fog Horn.wav
CGEffex
Nature Sounds -
Thick Bark - Thick Skin
Scfi_Electric_Hum_01.wav
xixishi
Owl's Night Vision
Evening Glade.wav
NLM
Cheetah Speed
Fast Car Drive
produktes
Hiberation - Grizzly Bear
Growl (CDistorted).wav
djfroyd
Lightning Burns - fire creates conditions for new growth
Lightning Strike
Turrus
[ Thank you Freesound.org sound artists ]
Questions -
1. Break into small groups and come up with your own definitions of:
+ Relentlessness
+ Resistance
+ Resilience
2. What helps you learn new material the best?
3. Are the captions helpful?
4. What doe tree bark feel like?
5. Should the accompanied sounds make literal sense?
6. The key production elements are text, picture and sound? Want to do you a voice over for a future Studio project?
7. Are you doing "the sustainability" around the house and yard? At school?
8. I suspect that grizzly bear hibernation involves a lot of snoring. Agree?
9. Compare the noise and security of a barn yard to a server farm!