"Eden-Maker" - "A Kid's DIY Video Creation System" - Overview / Resources / Questions. By Willi Paul Studio / Planetshifter.com
Submitted by Willi Paul on Thu, 04/20/2017 - 11:01
Axis:Image: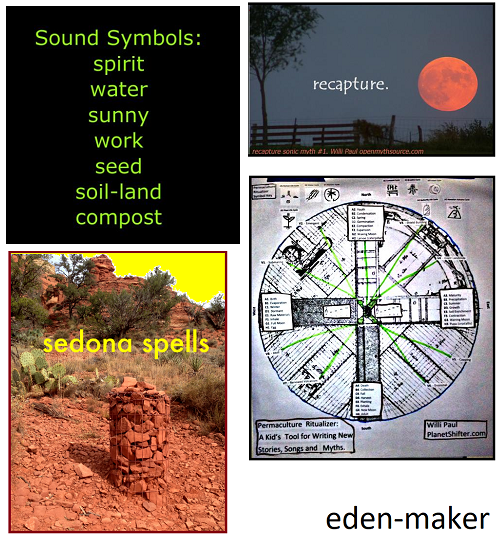 "Eden-Maker" - "A Kid's DIY Video Creation System" - Overview / Resources / Questions. By Willi Paul Studio / Planetshifter.com
Introduction - Journey, Vision and the Message -
The Eden-Maker system, supported by the community values of Permaculture, the re-localization spirit in the Transition Movement and the initiation, journey and community hero triad as translated from Joseph Campbell's mythological work, supports real places and real people - and solving real problems. The process incorporates common tools and software that children already use. Here, "Do It Yourself" (DIY) is a key foundation where responsible media is shared throughout the neighborhood and online group(s) with a sustainable, action-orientated mandate.
The artistic creation journey from an Eden-Maker experience can result in a deeper, connected, multi-layered educational product for youth in this age of mindless texting and machine enhanced reality. Eden-Maker is not about corporate media sales or sex-dripped titillation offering but a program that embraces governmental reform and environmental justice. It can serve individuals, as well as groups – on or offline.
EdenMaker Video Production -
Artists can build their creations one "Page" (think: one or more frames) at a time – then stich them together to then save and publish their work – connecting multiple Pages to form an edu-video. The length of the page is determined by the length of the combined elements, like sounds and the images, in the piece. Whether a mini-documentary or a music video, Eden-Maker can integrate the following elements into the final vision from pre-production "hunt and gather". This is not traditional cartooning or expensive animation.
i. Page Elements:
+ Graphics / Photographs
+ Video
+ Voice
+ Text
+ Sound Samples
+ Music
ii. Consider the Elements in These Examples from the Studio Portfolio -
"Life in the Edge (an edu-video)" on Permaculture Principle 8
"Leopard Noise" - What happens when we use sound samples instead of human speak in Nature cartoons?
"Sound Archetypes and the Four Seasons" – Children's Video and Documentation
iii. Project / User Scenario (simplified) -
Ideation and Goal Setting > Collecting Elements (MS Paint + Audacity) > Page Designs > Copy Writing > Final Edits > Stitching (i.e. - Movie Maker) > Publishing (i.e. - YouTube) > Group Discussion > Community Action > Evaluation
RESOURCES –
Ideas to Explore for Teachers and Students –
1. Concepts related to sound and images:
a. Anthropomorphism is the attribution of human traits, emotions, and intentions to non-human entities and is considered to be an innate tendency of human psychology.
b. Personification is the related attribution of human form and characteristics to abstract concepts such as nations, emotions and natural forces like seasons and the weather.
Both have ancient roots as storytelling and artistic devices, and most cultures have traditional fables with anthropomorphized animals as characters. People have also routinely attributed human emotions and behavioral traits to wild as well as domestic animals. (WIKI)
c. Sonic Symmetry - when the sound is expected or is the thing it represents
d. Sonic Irony - when we hear sound that are discordant or unexpected
e. Archetypical Sounds – Sound samples imagined from pre-history and re-wilding
f. Rhythm - a song with a regular beat
2. Some Support Groups -
+ G+ The Post Production Sound Community
Questions -
1. How to assign a sound sample to a Nature or animal?
2. How do visual and auditory cues work?
3. Does sound / music enhance memory?
4. What role does mythology play in electronic media?
5. Is "mythic Imprinting" part of your creative process?
6. How do we interpret sound symbols vs. graphic symbols?
7. What helps you study and learn new material the best?
8. Are video captions helpful or redundant / distracting?
9. Should the accompanied sounds make literal sense?
10. Are the key page elements text, picture and sound?
11. Do you want to do a voice-over for your project?
12. Noises vs Sounds - how are these elements similar / different?
Select media creation examples from the Studio Portfolio -
Sacred in Participation: Seek, Reflect, Share, Act, Evaluate (SRSAE)
http://www.planetshifter.com/node/1636 target="blank">The Permaculture Catalyst: Nature Symbols, Songs, and Stories for New Mythologies in the Sustainability Age
inner & outer system of the sacred - Video Instruction
The Post-Crash Tool Series. Teaching Tool #2: New Alchemy, Myth & Permaculture as Social DNA for a Sacred Future
Permaculture Teaching Video #3: Permagram Symbolic Language for Global (Post-Crash) Permaculture Tribes
Permaculture Ritualizer: A Kid's Tool for Writing New Stories, symbols, Songs & Myths. Video
SoundSourcing: Building the New Permaculture - based Mythology Video / SoundScape
Mythic Sound Ring – Solar Flare Journey – New Myth 22 (video)
SYMBO: A Symbolic Permaculture Supported Language for the Post-Chaos Era
"Connecting Nature with Symbols and Gratitude" – Vision for Children